Exclusive
EXCLUSIVE PHOTOS: Kim Kardashian Made Into Life-Size Blow-Up Doll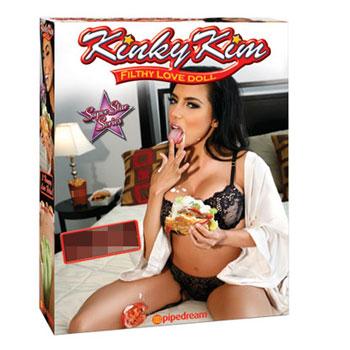 Kim Kardashian was upset about the surprise release of her nude photos and now RadarOnline.com has learned the Keeping Up With The Kardashians star is being made into a life-size adult blow-up doll.
Pipedream Products recently introduced the Kinky Kim Filthy Love Doll to their "Super Star Series" which features blow-up dolls of famous Hollywood starlets like Lindsay Lohan, Paris Hilton, Britney Spears and Beyonce.
Article continues below advertisement
A convincing look-a-like model is used for the cover of the product – the front featuring her in the bedroom with a burger and fries while the back of the box has her posing nude with carefully placed tomatoes and lettuce – along with several dirty phrases.
VIDEO: Kim's Botched Botox A Lesson Learned In Keeping Up With The Kardashians
The X-rated cover appears to be a play on the Carl's Jr. commercials Kim did in which she seductively promoted their line of salads.
RadarOnline.com removed certain content from the photos on the box as they were entirely too graphic.
A spokesperson for Carl's Jr. tells RadarOnline.com, "Our legal department is looking into what the legal possibilities could be," regarding Pipedream's blatant poke at their commercials.
Calls to Kim's rep for comment were unreturned.
RELATED STORIES:
VIDEO: Sneak Peek Of Kim And Kourtney Kardashian's New Clothing Line