Exclusive
EXCLUSIVE PHOTOS: Jersey Shore's Vinny Guadagnino -- Before He Was Famous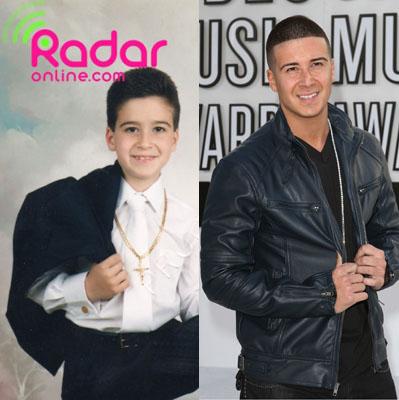 Fans watched as Vinny Guadagnino revolutionized into quite the ladies man on season two of MTV's Jersey Shore. But this hot reality stud used to be a pint-sized cutie, and RadarOnline.com has obtained exclusive photos of Vinny before he skyrocketed to fame.
In the first picture, a 6-month old Vinny is featured wearing an ultra white cable knit sweater and a baby blue lined polo. At that stage in his life there were no signs of GTL! But when you get a glimpse of a 1-year-old Vinny, he's sporting a fedora and it's a true precursor to his Jersey Shore days.
Article continues below advertisement
"He was a really happy, playful kid," said a close family friend. "Even at a young age you could tell there was something big in store for him."
By age 2, Vinny was pictured in a Hugh Hefner-style robe with flowing hair. Although there are definite signs of a budding ladies man, there were no signs of his signature 'taped-up fade' hairstyle.
In the next photo he's a dashing 10-year-old communion boy wearing a cross necklace, which is very similar to the bling he sports today. He wears a black dress suit and jacket casually tossed over his shoulder.
"I've always loved this photo, he's adorable and so are his cufflinks," said the family friend.
In the final photo, Vinny, then in 6th grade, is pictured in his Catholic Youth Organization basketball uniform in Staten Island. "Vinny has always been a huge basketball fan and he grew up just down the street from St. Rita's Church where he loved to play for his team," said his friend. "He still comes back to the neighborhood for pick-up games and the locals just love to see him play."