Exclusive
EXCLUSIVE PHOTOS: Jersey Shore's Pauly D Long Before 'GTL'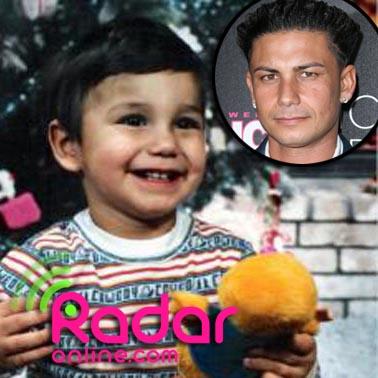 DJ Pauly D is known for his love of music, women, fast wheels and enormous amounts of hair gel, but RadarOnline.com has uncovered some adorable never-before-seen photos of the Jersey Shore reality star long before "GTL."
"Even as a little guy, he loved speed," said our source of Pauly D pictured on his General Lee Big Wheel at three-years-old.
"He loved to race down the block on it."
A passion for racing has been a constant in the Rhode Island native's life and we've got the proof!
Article continues below advertisement
Check out our photo of a shirtless 16-year-old Pauly D standing in his garage with his very first street bike.
His love of motorcycles continues as RadarOnline.com exclusively reported the reality star was recently gifted a brand new Big Bear Chopper with a personalized paint job.
At age five, his love of music is evident in our photo of young Pauly D playing both the drums and the harmonica simultaneously.
"From a very young age he loved music, he listened to it constantly and by the time he was a teen, he was already deejaying," said his pal.
And as for Pauly's love of chicks - check-out our photo of a two-year-old Pauly D with his hands clearly wrapped around a chick.
"He loved his little yellow chick stuffed animal, he played with it constantly," added his friend.
Jersey Shore Cast Hits Venice Beach
But our most surprising photo is of a pale skinned Pauly D in front of the Christmas tree.