Exclusive
EXCLUSIVE PHOTO: Paris Hilton Escapes To Hawaii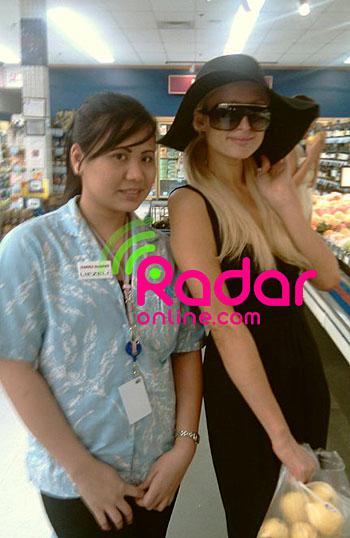 Paris Hilton has fled the harsh glare of her cocaine arrest in Las Vegas and gone to Hawaii, and RadarOnline.com has the details plus an exclusive photo of her shopping in a Maui grocery store.
Liezel Bermudez, a cashier at Napili Market, a small grocery store on the Hawaiian island of Maui, spoke to RadarOnline.com exclusively about her encounter with the heiress late last week.
Liezel said: "Paris was in the produce section. She was holding lemons. She was holding so many lemons, and other fruit that i can't remember, that i went up to her and offered her a basket. She said 'thank you,' and she told me that her boyfriend had a wagon, but that she didn't take the basket."
Article continues below advertisement
Paris spent $700 in the market and didn't seem at all stressed out or bothered, Liezel said "No, not at all. She seemed really happy, she was smiling."
"I asked her for a picture and she was really nice," Liezel adds. "She posed for a picture with me and my co-worker Jao. Not lots of customers recognized her. I was surprised!"
Paris was arrested August 28 after being found with cocaine in the purse she was carrying following the DUI bust of her boyfriend Cy Waits. Although she insisted to the police that the purse she was carrying was not hers and neither was the cocaine, she has since been charged with felony cocaine possession.
It appears that Paris and her boyfriend Cy Waits are staying in a private home on Maui because Saturday night, Paris tweeted "Cooked a delicious lasagna dinner for my love and watched a movie. Now going to bed. Sweet dreams everyone. Xo Paris."
Looks like that $700 she spent at the market went right into the oven.
RELATED STORIES:
Plea Deal Unlikely For Paris Hilton