Exclusive
EXCLUSIVE: Owners Of Malibu Home Rented By Ricki Lake May Sue Her For Fire That Destroyed The House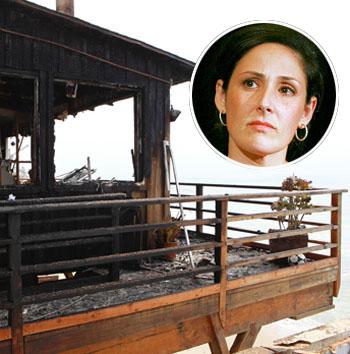 Ricki Lake's rented Malibu home was completely destroyed by a fire she accidentally set Saturday morning, and now the owners are threatening to sue the former talk show host, RadarOnline.com has learned exclusively.
The Los Angeles County Fire department responded to a 911 call from Lake's home located at 18954 Pacific Coast Highway at 7:28 a.m. and found Lake, her two sons, ages 9 and 13, and their dog standing safely outside the home while it was burning.
Article continues below advertisement
EXCLUSIVE: Heidi & Spencer Have Been Secretly Living Together All Summer - Trashed Rental House
"Ms. Lake was refueling a portable heater inside her home and accidentally caused the fire," Captain Larry Robideaux of the LA County Fire Dept. tells RadarOnline.com. "It took crews approximately 10 minutes to extinguish the fire. Ms. Lake, her children and her pets are fine. This has been ruled as an accidental fire. Case closed."
But not for the owners of the multimillion dollar property.
"The family doesn't understand why Rikki apparently made no attempt to put out the fire," a source tells RadarOnline.com. "She decided to move her cars, take her family and pets out, and even bring out boxes of clothes as she watched the fire burn the house to the ground.
"This has really torn the family apart. They feel that Rikki was negligent in trying to refill an outdoor heater indoors, and in making no attempt to put out the flames before it got out of control. They are talking to their lawyers about suing."