Exclusive
EXCLUSIVE: Lindsay 'Saw' Stroller Before Clipping It, Claims New Eyewitness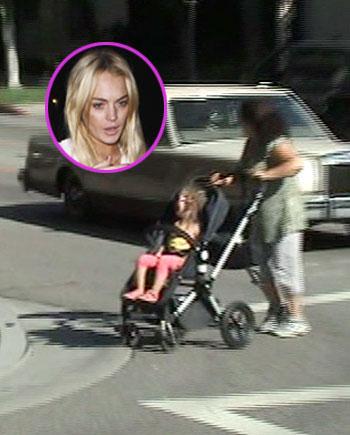 Lindsay Lohan 'saw' the woman and child crossing the road before she clipped the stroller with her car, according to another eyewitness.
After RadarOnline.com first reported that the troubled star had hit the stroller with her high powered car, Lohan denied any knowledge, saying "I don't know what you are talking about."
But now, another onlooker has come forward to confirm the event and says Lohan saw the woman and child crossing the road, but did not bother to stop.
Article continues below advertisement
RadarOnline.com had the exclusive interview with the first eyewitness, Brayan Jaime who described the chain of events.
"There was a woman pushing a kid in the stroller, maybe a two or three-year-old, crossing the street," he said.
"Lindsay took the red light and hit the stroller. It wasn't super hard, but she made impact and hit them."
"Lindsay pulled to the right, stopped for two seconds, and then just kept going."
Article continues below advertisement
Despite conflicting reports that Lohan was going a mere one-mile-an-hour when the incident took place, Jaime says she was going substantially faster.
"She was going at least 10-15 miles per hour," said Jaime. "It wasn't one mile an hour, that's for sure."
In fact, Lohan – who caused the four-wheeled stroller to tip up onto one wheel – even scared a man standing 10 feet away.
"There was a guy standing on the corner who jumped back when it happened," recalled Austin. "He was clearly scared."