EXCLUSIVE: Lindsay Lohan Files Appeal; Fails In Secret Bid To Get Bail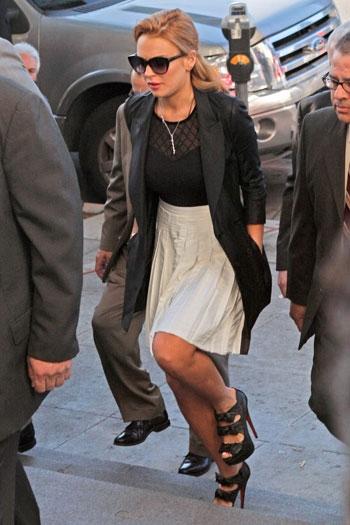 Lindsay Lohan is appealing Judge Elden Fox's stunning decision to deny bail and send the troubled actress back to jail, RadarOnline.com is exclusively reporting.
Lohan's high-powered lawyer, Shawn Chapman Holley, filed the paperwork -- around 4pm PT -- with the appellate department of the Los Angeles Superior Court.
EXCLUSIVE DOCUMENTS: See Lindsay's Court Approved Visitor Paperwork
"She will be filing the writ of appeal as soon as possible," a source connected to the case told RadarOnline.com, exclusively.
Article continues below advertisement
DOCUMENT: Read The Minute Order
"Lindsay's defense is simple: Judge Fox doesn't have the right to deny her bail."
The twist followed a desperate — and failed — attempt to get sprung from Lynwood Detention Facility, as RadarOnline.com was first to report.
Chapman Holley entered Judge Fox's courtroom shortly after 1:30 pm PT, for a top secret meeting, along with the deputy district attorney.
A source close to the case told RadarOnline.com: "Lindsay's lawyer, the district attorney and Judge Fox met in chambers for about 10-15 minutes. Judge Fox made no changes and didn't give Lindsay bail.
"Judge Fox is in trial and busy, so barring any other extraordinary changes, Lindsay's temporary home will be the until October 22nd."
Judge Fox won't be involved with the appeal, we're told.
Earlier Friday, Lohan was led away from a Beverly Hills courtroom in handcuffs and taken back to jail, where she is expected to spend nearly a month awaiting a hearing for violating her probation by failing a drug test.
Article continues below advertisement