Exclusive
EXCLUSIVE: Jersey Shore Girls Brawl Was Edited -- Here's What You Didn't See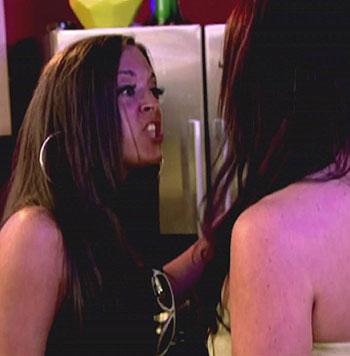 Jenni 'J-WOWW' Farley and Sammi 'Sweetheart' Giancola brawled on last night's wild episode of Jersey Shore – and as vicious as their fight was, RadarOnline.com has exclusive uncovered new details of violence that was edited from the showdown.
The explosive pair went at it in what is sure to be a Classic TV girl fight, with face punching and hair pulling, but now we've learned what you DIDN'T see.
Article continues below advertisement
"Angelina (Pivarnic) actually tried to break up the fight in the beginning and got punched in the back of the head," a source told RadarOnline.com exclusively. "She doesn't even know who hit her."
In the televised fight, Ronnie is seen attempting to break up the battle but an insider says he inflicted injuries on J-WOWW that the viewing audience didn't see.
"While Ronnie was holding J-WOWW down, he scratched her with his fingernails all the way down her face" said the insider. "J-WOWW's face was swollen from Sammi's punch and she was really hurt.
"Not only did two of her fingernails get ripped off but several hair extensions were pulled out too. She was in bad shape."
Snooki made a desperate attempt to stop Ronnie from hurting her pal J-WOWW, but that ended up badly for the pint-sized star, another part that was cut out of the televised version.
"Snooki got hurt. She was trying to jump in and help Jenni, and got elbowed in the ribs. She was really sore and bruised after the fight," said the source.
"This was one of the worst fights on the show and caused a rift between the whole group for a long time."
The episode packed more heat later on, as a tense showdown occurred between Angelina Pivarnic and Vinny, with him bashing her celebrity status by calling her "the Rob Kardashian of Staten Island."
RELATED STORIES:
EXCLUSIVE: Jersey Shore's Angelina Challenges J-WOWW To Boxing Match