Exclusive
EXCLUSIVE: Jersey Shore's Angelina Challenges J-WOWW To Boxing Match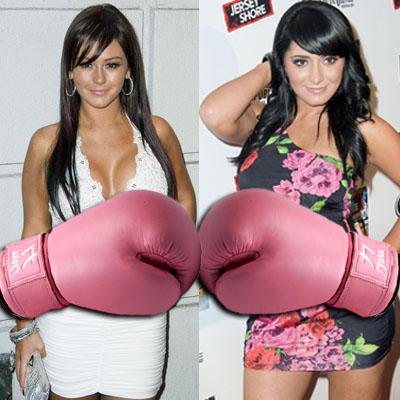 Jersey Shore 'frenemies' Angelina and J-WOWW have made no secret of their animosity for each other on the show, but now the reality TV stars may be taking their feud into the boxing ring!
In an exclusive new interview with RadarOnline.com, Angelina revealed she's been approached to fight in a Celebrity Boxing match.
"I've been asked to do it and I'm so excited," she told RadarOnline.com.
"I want to beat the s h*t out of someone... I don't care who I fight but I hope it's J-WOWW in the ring."
Article continues below advertisement
But before she gets the opportunity to fight J-WOWW, Angelina is first going to get in the ring with another arch-nemesis, the winner of VH1's Frank The Entertainer, Kerry Schwartz. Schwartz has been confirmed to fight in the Big Bang Boxing match on Oct. 2 in Springfield, MA., and says can't wait to give Angelina a beat down.
"I want to kill her, but I know I'd get arrested and thrown in jail", the reality star told RadarOnline.com. "So when I was approached with the opportunity to fight Angelina in the boxing ring, I thought 'now I can kick her ass and not get in trouble for it!'"
Schwartz told RadarOnline.com that she first met Angelina at a party for fellow Jersey Shore cast mate, Mike 'The Situation'. A few weeks later, the two bumped into each other backstage at a concert and that's when the friction started.
"Angelina came up to me and started talking sh*t to me about a friend of mine," Schwartz said. "I told her I wanted to take it outside because I didn't want to get arrested with all the security around. But she walked away."
Article continues below advertisement
About a week after that, Schwartz said she received a surprising message on her Facebook page -- from Angelina's boyfriend Paul. "They were broken up at the time and he started messaging me, telling me what a b*tch Angelina was. We never hooked up but he asked for my phone number and we talked a lot. One night I got a BBM BlackBerry Messenger from Paul and it was Angelina who had taken his phone and was IM-ing me. She flipped out and deleted me. Ever since then I've wanted to run into her in person and kick her ass."
But Angelina is no stranger to throwing punches herself; in fact, she says she refined her one-two combination from the most important person in her life.
Angelina said, "My mom taught me to fight. She is so beautiful with a perfect body. She has a six pack and a black belt in Karate. I have beaten the sh*t out of so many people.
"Girls always start it with me, so I just have to punch them in the face."
But Angelina's fighting words don't scare Schwartz one bit.
"She's always been the type of girl who talks, talks, talks, but I'm all about action," Schwartz told RadarOnline.com. "Now that she's agreed to fight me, I plan to kick her ass."
RELATED STORIES: