EXCLUSIVE: It's Time To Move On, Says Bahamas Woman Cleared Of Extortion In Travolta Son's Death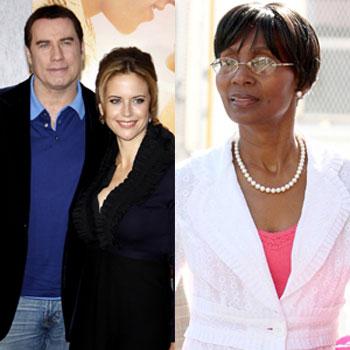 Pleasant Bridgewater -- the woman at the center of the alleged $25 million John Travolta extortion case -- has told RadarOnline.com it's time for everyone to move on with their lives.
Travolta and his pregnant wife Kelly Preston recently decided not to pursue charges against Bridgewater and Tarino Lightbourne in their re-trial following the tragic death of their son Jett on January 2, 2009.
And as RadarOnline.com revealed Monday, millions of television viewers across America will watch the superstar surprise Oprah Winfrey's audience in person with the news that he will be personally piloting them to Australia to mark her 25th and final season.
Article continues below advertisement
PHOTO: John Travolta and Kelly Preston Visit Harry Potter
Lawyer and politician Bridgewater said: "I am happy that I can get on with my life – it's time for everyone to move on now."
She added, "But I maintain that I am 100 per cent innocent and that I did nothing wrong – the people of the Bahamas have always been supportive of me throughout everything.
"At the moment I am concentrating on my work and moving forward with things."
Before the Travolta's made their decision Bridgewater had told RadarOnline.com that she hoped that Preston had a healthy baby.
Both she and Lightbourne were discharged after Neil Braithwaite, Chief Counsel in the Office of the Attorney General, said: "Mr. Travolta is no longer interested in pursuing the matter because it has caused his family great emotional distress."
The retrial would have required Travolta to again testify about the events surrounding the tragic death of his son Jett, and without that, the prosecution believed they could not get a conviction.
Article continues below advertisement
Preston is expected to give birth to their third child in the coming weeks and her famous husband did not want any additional stress on his 47-year-old wife.
The defendants were alleged to have threatened to give the media a document Travolta had signed, releasing the ambulance driver and his colleagues from any liability for Jett's death after Travolta decided to try to fly his son to Florida for treatment rather than have him taken to a Freeport hospital.