Exclusive
EXCLUSIVE INTERVIEW: Levi Johnston's New Girlfriend: 'He's Bright, Sensitive & Funny'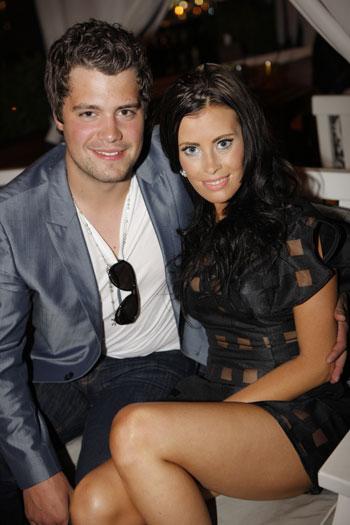 He's been dissed by the governor of Alaska and voted the most hated politician -- aspiring or elected -- by the people in his home state, but at least one person is crazy about Levi Johnston.
Move over Bristol Palin and meet singer Brittani Senser, who tells RadarOnline.com in an exclusive interview that the much-maligned Levi is actually bright, sensitive and funny.
Bristol has said that fame has changed him Levi for the worse, but Brittani, Johnston's new girlfriend, opens up to RadarOnline.com about their relationship and why Levi is a "really great guy."
Article continues below advertisement
The two met on the set of her music video for the song After Love. In the video, they play a young couple in love whose romance is thwarted by the girl's disapproving mother -- an experience Levi had during his on-and-off relationship with Bristol, whose mother Sarah Palin publicly disapproved of him.
"When we worked together on making the video, I was really happy about it because I felt that Levi could understand the story and bring truth to the role," Senser told RadarOnline.com. "Working together I got to know him to be a really great guy. It was like we knew each other even though we had just met."
Going into the shoot, Johnston was engaged to Bristol, so Senser extended an invite to the current Dancing With The Stars contestant. Brittani said at the time: "I've passed on an invitation. I want her to feel as comfortable as possible with it. It is acting and it is a music video and not real life... we're not trying to make anybody look bad, we're not trying to hurt anybody in any sort of way."
Article continues below advertisement
But since Bristol and Levi broke their second engagement, Senser and the Alaskan hunk have gotten to know each other very well, even going on a recent shopping jaunt together to scope out goodies for his son Tripp.
"We have synergy like that you know... easy to talk to... he's a great listener and a really nice guy," she said. "Now dating, I'm finding that he is really a sensitive, caring person. Very bright, he's funny. He's a great dad, he's a natural.
"He's a real guy with a big heart."
The new couple is looking to take their relationship to the next Hollywood level. They are set to attend the upcoming MTV Video Music Awards this Sunday in Los Angeles.
"We are looking forward to coming to L.A. for the VMAs and sharing about the video premiere," Brittani added. "This video is about true love and heartache. I think we all have gone through it in our lives. When After Love premieres I think everyone will be able to relate to the story we are telling- a story too many of us have gone through in our lives: heartache and dealing with the hurt."