Levi Johnston At Teen Choice Awards With Brittani Senser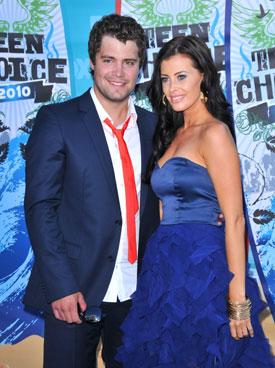 Levi Johnston turned heads on the red carpet at Sunday night's Teen Choice Awards, as the Hockey hunk posed alongside sexy singer Brittani Senser, and RadarOnline.com has all the pictures for you.
The one-time Playgirl magazine cover boy and his baby's mother, Sarah Palin's daughter Bristol, shocked everyone when they announced last month they're engaged to be married, though the pair has already called it quits since then.
Article continues below advertisement
Levi says he and Senser are just friends, but the Alaskan beefcake will be the leading man in her upcoming video for the track After Love.
"He's looking forward to doing it," Johnston's attorney Rex Butler told the AP last month of Johnston's foray into music videos. "It will give him an opportunity to act a little bit in front of a camera. He's done a commercial before, but something like this is a little more involved."
Sarah Palin in the past has mocked Johnston's show business aspirations, scornfully calling him "Ricky Hollywood" in an interview with Oprah Winfrey last year.