Exclusive
EXCLUSIVE FIRST LOOK: Levi Johnston Makes His Acting Debut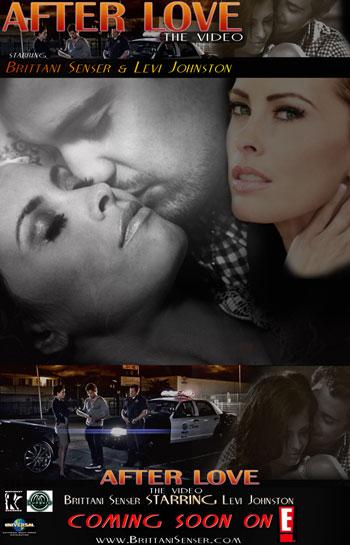 While Bristol Palin shimmies on Dancing With The Stars, her ex Levi Johnston is making his own mark on Hollywood. RadarOnline.com has the exclusive first look of Johnston's music video with his new lady love Brittani Senser.
The video is sure to be drama-filled. The exclusive poster obtained by RadarOnline.com shows the couple locked in romantic embraces. Levi even has a run-in with the law!
The video is for Senser's R&B-pop music tune After Love and the art imitating life concept for the shoot is about a young couple's romance being thwarted by the girl's disapproving mother. (In real life, Sarah Palin voiced her wariness about Levi and her daughter Bristol's short-lived renewed plans to wed.)
Article continues below advertisement
It seems Levi and Brittani's on-screen romance spilled over to real life. As RadarOnline.com previously reported, the couple is now dating. Senser gushed that the Alaskan hunk is "bright, sensitive and funny."
"When we worked together on making the video, I was really happy about it because I felt that Levi could understand the story and bring truth to the role," Senser told RadarOnline.com. Brittany even joined Levi in a shopping jaunt to scope out goodies for Tripp, his son with Bristol. "Working together I got to know him to be a really great guy. It was like we knew each other even though we had just met."
"We have synergy like that you know... easy to talk to... he's a great listener and a really nice guy," she said. "Now dating, I'm finding that he is really a sensitive, caring person. Very bright, he's funny. He's a great dad, he's a natural.
"This video is about true love and heartache," Brittani said. "I think we all have gone through it in our lives. When After Love premieres I think everyone will be able to relate to the story we are telling - a story too many of us have gone through in our lives: heartache and dealing with the hurt."