Exclusive
EXCLUSIVE: Anjelica Huston Sued For Alleged Assault; Read The Lawsuit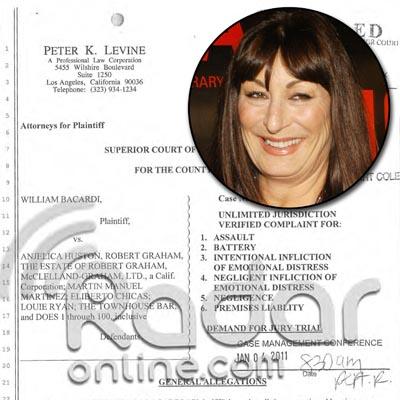 Legendary actress Anjelica Huston is being sued by a man who claims her bodyguards beat him up, RadarOnline.com has learned exclusively.
EXCLUSIVE DOCUMENTS: Read The Lawsuit
According to the court papers, William Bacardi, says he was leaving the Townhouse bar in Venice, Calif., on September 7, 2008, when two of Huston's security guards approached him.
Huston - who won an Oscar for her role in 1985's Prizzi's Honor - owns an art studio and condo unit directly across the street from the bar.
Article continues below advertisement
In the lawsuit, Bacardi says he left the Townhouse bar in the early morning hours and was waiting for friends to join him outside when Huston's guards walked across the street towards him and asked him to leave.
"They demanded that the plaintiff 'leave or we will remove you.' Plaintiff attempted to explain he was on a public sidewalk and was going to leave as soon as the rest of his party came outside."
Bacardi claims the guards actually prevented him from leaving the sidewalk and one took out his nightstick as Bacardi started towards his car.
"The guard came up from behind, grabbed plaintiff's arms and repeatedly pushed him face first into a security gate in front of one of the local businesses using his baton as a bar behind plaintiff's neck."
Bacardi says someone eventually came outside and told the guards that they were in the wrong. As he was walking away, Bacardi claims one of the guards hit him from behind without warning, knocking him to the ground. When he got up, the guard allegedly sprayed Mace in Bacardi's face.