Wyclef Jean's Bid To Become Haiti's President Opposed By His Own Family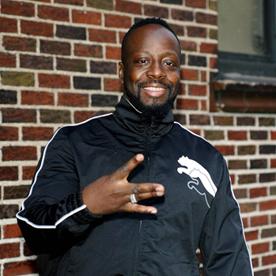 Hot on the heels of Sean Penn speaking out against Wyclef Jean's announced candidacy for the office of Haiti's president, his cousin and former Fugee bandmate Pras is opposing him as well, RadarOnline.com has learned.
Pras, whose real name is Prazakrel Michel, says Wyclef is an opportunist for attempting to take over Haiti's top office.
VIDEO: Sean Penn in Haiti to Help With Earthquake Relief Efforts
Article continues below advertisement
Both Wyclef and Pras were born in Haiti, and Pras has said in a statement "I endorse Michel Martell as the next President of Haiti because he is the most competent candidate for the job."
Wyclef Jean Will Run For President Of Haiti
Meanwhile, Sean Penn went on record revealing his concern over Wyclef allegedly misappropriating $400,000 in donations intended to go to the Haiti earthquake relief efforts through his foundation Yele Haiti, a claim Wyclef has always denied.
Penn has also told CNN that Jean has been a "non-presence" during his time working with the earthquake victims in Haiti.
VIDEO: Sean Penn Warns Against Wyclef Jean's Bid to be Next Haitian President
Pras told UsMagazine.com he believes that Jean in merely trying to "seize a moment of opportunity," and "if he really wanted to help Haiti, he should have chosen his influence and champion and go around these countries that have pledged money to Haiti who have not given a single dime yet. You don't even see 3 percent of what's been pledged," Pras complains. "You need to say, 'Listen, we need money!'"
Angelina Jolie and Brad Pitt, who were once connected to Wyclef through his foundation Yele Haiti, have so far stayed silent about his Presidential ambitions.
Brad Pitt and Angelina Jolie Rush to Aid Hatian Earthquake Victims