It's Official: Wyclef Jean Will Run For President Of Haiti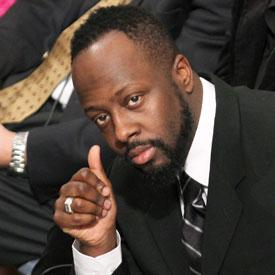 After weeks of speculation, Wyclef Jean has confirmed he will run for the president of Haiti, RadarOnline.com can report.
The international hip-hop star will appear on CNN's Larry King Live Thursday to formally announce his candidacy, but earlier in the day, he confirmed during an interview with a Miami radio station that he would in fact run for Haiti's highest office.
In the hourlong radio interview on Radio Tropic's 8 a.m. show 'Bonjour Haiti', Jean said he decided to run after last January's earthquake that devastated his homeland.
Article continues below advertisement
"For the 250,000 people who died in the earthquake, that's the reason we ought to see a change in the system", Jean, who moved to the U.S. as a boy, said during the radio interview.
Wyclef Jean To Receive NAACP Award
During the interview - which was streamed online for listeners in Haiti and elsewhere- Jean said he was adopting the slogan 'Face to Face' as part of a street, youth-oriented movement that goes by the same name.
Jean's candidacy isn't a done deal yet. He has until Saturday at midnight to file his paperwork with the national electoral office, but then, just like any other candidate, he must prove to a nine-member electoral council that he is in fact eligible to run under Haitian law.
EXCLUSIVE VIDEO INTERVIEW: will.i.am On We Are The World Remake: "I Was Crying"
Jean must prove that he holds only Haitian citizenship, has lived in Haiti for five consecutive years, and owns land in Haiti.
On August 17, the council is scheduled to publish a list of eligible candidates.
The presidential election is slated for November 28 of this year. The new president will be sworn in on February 7, 2011.
Jean - who was born in a suburb of Port-au-Prince, but moved to the New York area when he was just 9 - shot to world-wide fame in the 1990s as a member of the Grammy Award winning hip-hop trio The Fugees.