PHOTOS: Sandra Bullock Gives Back To New Orleans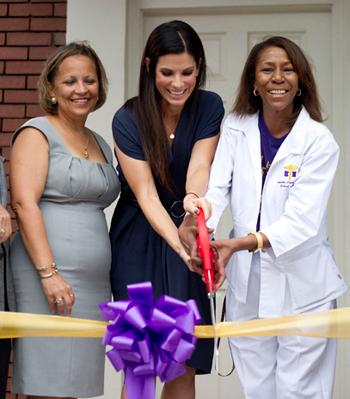 Five years after Hurricane Katrina, Oscar-winning actress Sandra Bullock was in New Orleans Sunday at a high school she helped rebuild for the opening of its on-campus health clinic, RadarOnline.com has learned.
"We're here to celebrate an anniversary and though that might be hard for some, I choose to emphasize the word 'celebrate.' Sometimes tragedies bring out the very best in people and it's one of the reasons why we stand in this school of excellence today," Bullock said to more than 100 people who attended the ribbon-cutting ceremony at Warren Easton Charter High School.
Article continues below advertisement
Bullock, along with other charitable donors, helped raise $700,000 for the new facility.
Sandy, a part-time New Orleans resident, wore a nice summer blue dress and her hair was perfectly on-point.
Glad to see her looking fabulous and in true Sandra form, giving back to others.
RELATED STORIES:
Brad Pitt Teams Up With Drew Brees To Help New Orleans
Sandra Bullock & Jesse James Drop Price On Their Former Love Nest