Sandra Bullock Eyeing Film With Tom Hanks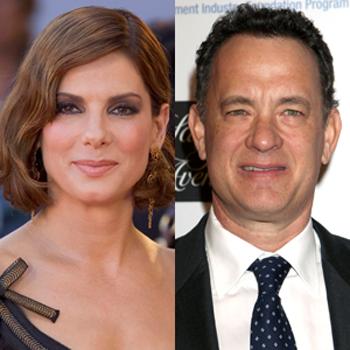 As promised, Sandra Bullock is looking to get back to work and is considering a film with Tom Hanks.
A rep for the actress confirmed that she wants to film the big-screen adaptation of Jonathan Safran Foer's post-9/11 novel Extremely Loud and Incredibly Close. According to E!, Hanks' part is "very small" and is more like a special appearance rather than a costarring role.
High-powered producer Scott Rudin is said to be developing the film which will be co-financed and distributed by Warner Bros. and Paramount who partnered together on The Curious Case of Benjamin Buttons.
Article continues below advertisement
Eric Roth, the screenwriter for Forrest Gump, is said to have written the script. Bullock would play the mother of a brainy nine-year-old vegan/scientist/artist/pacifist who plays a tambourine and searches for a lock that matches the key left by his father (Hanks) who died in the September 11 terrorist attacks.
It is slated to film in New York City with a possibly January start date.