Outside Lands Blog: Day One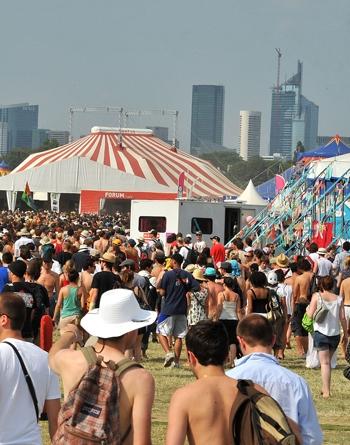 Saturday kicked off the third annual Outside Lands Music and Arts festival in San Francisco and RadarOnline.com is bringing you all the action from the eco-friendly event in the middle of Golden Gate Park.
After a long, scenic walk to the main entrance, we blasted through the VIP tent (really, who wants to pay $10 for refreshments right off the bat!) to wander the expanse of the tents and stages in the Polo Field.
Article continues below advertisement
How To Make Your Plastic Pimp Up Your Music Travel Experience
Next stop: the Chase Freedom Lounge (which is open to all Chase Freedom card members) where the faux hardwood floors indoors and leatherette couches were a nice change of pace from the gravel, grass and dirt de rigueur of outdoor music events. For those who took the extra step and redeemed their Chase Freedom Ultimate Rewards for concert admission, the outdoor VIP area offered free sandwiches, drinks, and a luxe respite from the other-wise rustic offerings.
Article continues below advertisement
Piano Man Rufus Wainwright Entertains New Yorkers
Nestled in the Speedway Meadow section, the lounge also offered an extra delightful bonus: exclusive, deluxe, tiled bathrooms that were line-free!
By 4 pm, the crowds finally began rolling in and filling up the grounds. At the Polo Field Sutro stage, Bassnecter- the hometown boys from SF specializing in freefrom electronica- got the capacity crowd rocking. Despite the chill, the most ardent fans whipped off their shirts and threw their arms up jamming to the hip-hop infused beats and bumps. As the last screams of their "West Coast" chants faded away, the crowd took a few last swipes at the black beach balls being passed around as they gave one last cheer for the band.
Back at the Speedway Meadow Panhandle stage, the Rebirth Brass Brand brought some true Southern flair. At 5:15, the band burst into a lively rendition of "Do Watcha Wanna," the theme song for the new HBO show Treme. The crowd howled as the band broke into the recognizable chorus, swaying their hips and stamping their feet in joyous unison.
At 6:00, it was back to the Chase Freedom lounge for an intimate performance from country rocker Langhorne Slim. Fans eager enough to get to the show early got a special treat: some of the band hung out by the stage chilling with the banjo player strumming some chords to warm up.
Click Here For Exclusive Review Of Langhorne's Show
Nightime has descended and it's time to catch the last big acts of the day: Cat Power at the Speedway Meadow Twin Peaks stage and The Strokes who will close out day one right after (more on them in tomorrow's blog from Outside Lands!).