Piano Man Rufus Wainwright Entertains New Yorkers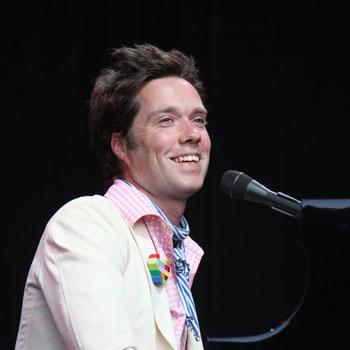 Last night, on a balmy summer evening in Brooklyn, Rufus Wainwright gave New Yorkers a magical musical experience as part of the "Celebrate Brooklyn" festivities.
Not about to let the heat get to him, Rufus took the stage in proper performance attire—light blue tuxedo pants and a crisp white oxford shirt complete with a waistcoat and corsage—and was met with wild cheers. He kicked off the set with "Beauty Mark" from his self-titled debut, an ode to his late mother, Canadian musician Kate McGarrigle, who passed away this past January.
Article continues below advertisement
After following it up with "Grey Gardens" Rufus addressed the audience. "I used to live in Park Slope," he said, "when I was a lesbian and pregnant." He giggled and then quipped, "Then I woke up and I was a gay boy."
He played a few tracks from his gorgeous new album, All Days Are Nights: Songs for Lulu, including "Martha," a bleak song penned to his sister while their mother was ill, "Who Are You New York?", a kind of tribute to his adopted home, along with "Zebulon" and "Sonnet 20", one of three Shakespearean sonnets he set to music.
Backed by purple arches, the musician sat at his piano, surrounded by flickering tea lights perched on monitors, and delivered his bewitching songs with minimal accompaniment, which only served to underscore his powerful vocals.
After lovely renditions of "Cigarettes and Chocolate Milk" and "The Art Teacher," Rufus' father, singer-songwriter Loudon Wainwright III, who had opened up the show, joined him for a few songs, including Richard Thompson's "Down Where The Drunkards Roll", and it was evident that their father-son bond is back in tact, with no signs of a once admittedly strained relationship.
"This is the first time we've ever done this, just the two of us," said Rufus to do his dad, to which he replied, "But I want to remind you, you opened a show for me in Piermont, New York, ten years ago," to which Rufus nodded, and his dad joked, "Don't forget that" and they both laughed before going into Loudon's beautiful "One Man Guy", which Rufus covered on Poses.
Rufus thanked his fans for supporting him and his sister through mourning the loss of their mother and then sang a song Kate had written about her relationship with Loudon, entitled "The Walking Song." He ended the night with a rousing version of Judy Garland's "Me and My Gal" that merged right into "The Trolley Song", leaving the audience to go off into the warm night with a spring in their collective step.