How To Make Your Plastic Pimp Up Your Music Travel Experience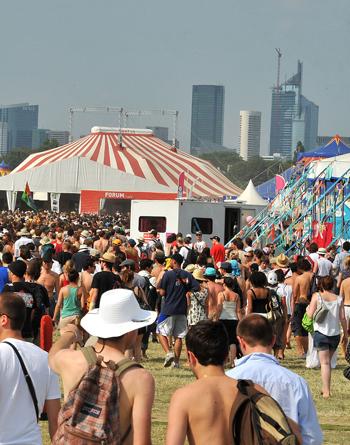 Given the ongoing state of the economy, any extra boost helps. Chase is hopping on the mutual gratitude bandwagon with its Ultimate Rewards program.
Check Out Other Goodies Available Through Chase's Ultimate Rewards Program
Available to Chase Freedom credit card holders, the program allows members to collect and redeem points with no earning caps or expiration dates. While points redemption can often come with the stigma of chintzy, novelty items you don't ever actually want, the program boasts over 3 million merchandise items (think iPods and Le Creuset cookware) and more than 300 leading retailers participating in the Ultimate Rewards Bonus Mall.
Article continues below advertisement
But besides the fun booty, Chase is offering one-of-a-kind "experiences." While outdoor musical festivals are always a blast, between the beer-soaked grass and often blistering sun, they are not always ideal settings for discerning adults.
Hotel Monteleone: A Classy Historic Hotel In The Middle Of The French Quarter
Now, Chase customers can use their points to bid on packages at the hottest musical festivals across the country from Bonnaroo in Tennessee, this weekend's Outside Lands in San Francisco, and the upcoming Life Is Good in Boston.
Some highlights of the packages include: exclusive lounge access, 4 VIP festival tickets, soundboard viewing for one show of choice, photo pit access for the first three songs for one show, access to VIP viewing areas, and of course fun merchandise like t-shirts and posters.
Las Vegas For Grown-Ups: Spa, Shows and World-Class Supper
For Boston's Life Is Good, Chase is donating $500 to the Life is good Kids Foundation in the VIP auction package winner's name.
Article continues below advertisement
Esmerelda: Jewel In The Desert
Still not convinced? Jeffery, who won this year's VIP Bonnaroo tickets, had the following to say about his experience:
"It was only when I arrived at Bonnaroo did I learn that Chase had set up the Freedom Lounge for the weekend, where I could escape to the air conditioning; get free water, lemonade, and snacks all day; and a free meal in the afternoon; all while watching the various stages on one of several TVs. There were even air conditioned, flush toilets (a HUGE perk as compared to the hot, frequently gross porto-potties I would otherwise be using)... The execution of the entire weekend was flawless...being a guest of the Ultimate Rewards program brought my enjoyment of the festival to an unprecedented level.
"I earn a very respectable salary, but am far from super wealthy. On my own, I wouldn't have the resources to procure such an exciting or exclusive package like the Ultimate Rewards program was able to offer me."