Esmerelda: Jewel In The Desert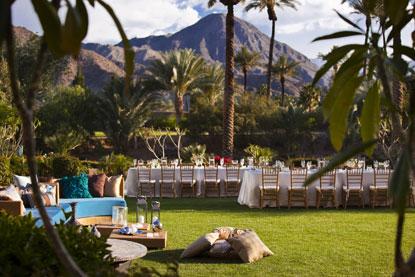 During the months of July and August, temperatures in the California desert routinely top 100 degrees. But if you've picked the right resort, you'll be sitting cool. The luxurious Renaissance Esmeralda Resort & Spa, at the foot of the Santa Rosa Mountains with its beach pool, waterfalls, and poolside bar, is a great sanctuary from the weather.
For the kiddies there's the always-popular kids club (Camp Oasis) and for the adults there's the newly updated Spa though our favorite activity is sitting pool side with a fancy cocktail. There's a 36-hole golf course, but get out on the course early. By 11:00 it can be 105 degrees!
Article continues below advertisement
The restaurants, which used to be hoo-hum family places have undergone a re-vamp, with the Sirocco offering a sophisticated Italian menu (think date night), the Glo Sushi bar, with it's fresh selections, and Cava, which offers guests a bistro-style dining option with inside and outside seating. The night we visited Cava there was a buffet which the kids loved (especially the desert bar) while we enjoyed the prime rib (scrumptious) and salad bar.
The accommodations are spacious and well-appointed and many come with a patio. Room service is surprisingly fast (under 30 minutes for dinner) and the service across the board is friendly and attentive. If you need a small fridge, ask for one when you book your room since those go fast.
Hotel Review: Margaritaville Beach Hotel
There's plenty to do outside of the hotel, such as The Living Desert Zoo & Gardens, and the Palm Springs Aerial Tramway, but once you get the hotel we bet you won't want to go anywhere else.