CONCERT PREVIEW: Rocking Out At Outside Lands 2010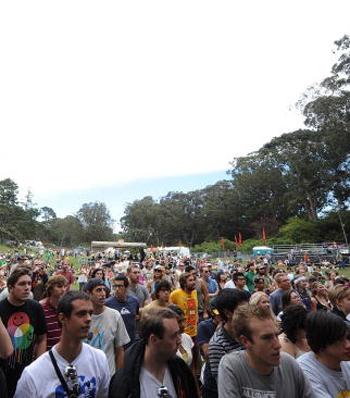 Article continues below advertisement
In terms of marquee names, Saturday brings The Strokes, My Morning Jacket, Cat Power, Wolfmother while Sunday has Kings of Leon, Phoenix, Social Distortion, Al Green, Chromeo and Empire of the Sun taking the stage. There will be four stages spread across the park: the Lands End Stage and Sutro Stage bookend the polo field while the Panhandle Solar Stage and Twin Peaks Stage are nestled at the Speedway Meadow.
Rihanna Rocks L.A.
For a more intimate viewing venue, Chase customers can hit up the Freedom Lounge- located on Speedway Meadow closest to Wine Lands- where rising stars like Grammy-nominee Janelle Monae (Sunday at 5:00 PM), Langhorne Slim (Saturday at 6:30 PM), and Dawes (Sunday at 2:00 PM) will perform.
In addition to the amazing acts, the lounge offers free laptops with WiFi (you know you'll want to update your Facebook profile with new pics!), private wine tastings, charging stations for your phones, and other refreshments.
Old 97's: An American TreasureOld 97's: An American Treasure
Other acts you don't want to miss: Colorado's electronic duo Pretty Lights on Saturday and Tokyo Police Club.
On Sunday, make sure to squeeze in the mellow singer-songwriter Amos Lee and groovy Mayer Hawthorne.
The Outside Lands not only have a reputation as a popular outdoor music celebration, it also has a reputation for some delicious food. At the A Taste of the Bay Area part of the fest, you can fill up on things like organic smores from Charles Chocolates, crispy man & cheese at Andalu, samosas at New Ganges, and modern Vietnamese cooking from Out the Door, and gourmet mini cupcakes from Mission Minis.