Outrage Over Charlie Sheen's No-Jail Sentence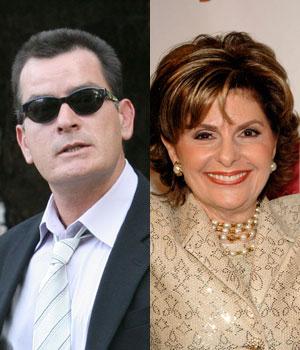 Just hours after actor Charlie Sheen struck a plea deal regarding his domestic violence case in an Aspen, Colorado courtroom on Monday, the female police officer embroiled in the case spoke out about her outrage over the light sentence that is sending him to rehab – not jail.
Valerie McFarlane – the cop who resigned under pressure following Sheen's Christmas Day arrest – made an official statement with the support of her attorney, legal powerhouse Gloria Allred.
Article continues below advertisement
Sheen Defense Will Discredit Cop To Beat Domestic Violence Charge
"I am appalled that the Court has chosen to impose the lightest possible sentence imaginable on Mr. Sheen," said McFarlane. "I wish that the judge could have seen what Mrs. Sheen looked like that Christmas Day and felt the terror that I believe she must have experienced as a result of what she alleged had suffered because of Mr. Sheen's conduct towards her."
The Two And A Half Men star pled guilty to misdemeanor assault and was ordered to spend 30 days in a Malibu rehabilitation center, RadarOnline.com reported. The other charges - felony menacing and a criminal mischief misdemeanor - were dismissed.
Charlie Sheen Pleads Guilty To Misdemeanor Assualt, Ordered To Go To Rehab
In support of her passionate feelings, McFarlane gave details on the scene that she found when she arrived at the Sheen's house after the assault.
Article continues below advertisement
"I observed a red mark on the upper part of her neck which appeared to be as a result of a strangulation hold and red marks on her arms. I also saw older bruises that appeared to be in the healing process," she explained. "A knife was recovered at the scene which Brooke alleged had been used by the defendant to threaten her.  Brooke was crying uncontrollably as she described the incident to me."
McFarlane went on say that she believes, "that this type of the sentence sends a message to victims that they are not important or worthy and that the court will not protect them by making sure that serious consequences are imposed on the perpetrators of the crimes against them."
The former police officer added that she hopes that it won't deter other victims from coming forward. "Victims do not have to live and operate from a place of fear, feel hopeless or suffer in silence."
Besides checking into Promises Treatment Center in Malibu, Sheen has to do 36 hours of anger management and must pay the court costs and fees incurred. He can begin his 30-day stint at Promises in 30 days time and will be on probation for three months.
Article continues below advertisement
In Aspen, Colorado, representing MacFarlane, Gloria Allred also vehemently spoke out against Monday's ruling.
"Today the court imposed what I believe to be an extremely laughable and unacceptable light sentence on Mr. Sheen for his criminal misconduct in this case," said Allred. "Mr. Sheen was originally charged with a felony in this case. If convicted he could have been sentenced to substantial time in prison. In his sentence today he was given the biggest break that he has ever had. The only thing missing from his sentence is the red carpet as he goes on probation with adoring fans and applause.
Bones Star David Boreanaz Sued For Sexual Harassment
Calling it a "sweetheart deal," Allred said the sentence reinforced the opinion that there are two levels of justice – one for the rich and famous, and another for regular people.
"The drama on Christmas Day in the Sheen home was not a fictional Hollywood movie," said Allred. "It was a serious real life dangerous situation and should carry serious real life consequences for the perpetrator of the dangerous criminal assault that took place, rather than the extremely light sentence that he received today.
Article continues below advertisement
"At this point we can only hope and pray that we will not all be back here next year at this court or another court with another victim of Charlie Sheen."
Valerie McFarlane was fired from the police department for a series of incidents, which included allegedly attending and gaining free entry to the Jazz Aspen Snowmass Labor Day Festival in her police uniform while off duty; a direct violation of department policy.
She also reportedly gained VIP access and snuck her daughter and her daughter's boyfriend into the VIP area.