Bones Star David Boreanaz Sued For Sexual Harassment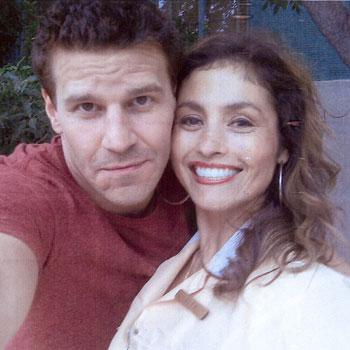 Bones star David Boreanaz was sued for sexual harassment on Thursday by aspiring actress Kristina Hagan and RadarOnline.com has the shocking details of her accusations.
COURT DOCUMENTS: Bones Star David Boreanaz Sued For Sexual Harassment
Legal powerhouse Gloria Allred is representing Hagan and held a press conference announcing the lawsuit. Hagan met the married TV star while working as an extra on his show, Bones.
Article continues below advertisement
VIDEO: Gloria Allred And Kristina Hagan's Courthouse Press Conference On David Boreanaz
"She is an actress who is working towards her goals, but who like many other actresses has not been able to achieve them. For that reason she is extremely vulnerable as many actresses are in Hollywood," said Allred.
The lawsuit is sexually explicit and states that on August 21, 2009, Hagan worked on the show and while she was on set Boreanaz approached her and starting making small talk.
The Hollywood hunk proposed the possibility of future work on the show, and at his request the inexperienced actress gave him her head shots, business card and contact information. She says the only reason she handed those over was so that he could contact her with job opportunities.
Hagan contends that Boreanaz soon texted her and said he thought they had a "real chemistry." She claims that Boreanaz continued to text message her and sent a photo of his genitals.
Article continues below advertisement
The aspiring actress claims she was offended by the texts but wanted to maintain a relationship with the Bones star to secure employment. She also says Boreanaz called her that night and talked in a sexually suggestive manner..
On September 9, 2009, she agreed to meet Boreanaz for coffee. He picked her up after an audition and they drove to a park. Boreanaz told her that he was trying to find the right role for her and that he was "the boss" and could make things happen for her career.
Once they arrived at the park, Hagan alleges that Boreanaz attempted to kiss her and touch her breasts and she repeatedly pushed him away..
Hagan says Boreanaz unzipped his pants and pleasured himself. The married actor continued to be sexually aggressive toward her, even taking a break to call his wife!
Boreanaz continued to text her almost daily after that incident, says Hagan and on September 22 he drove to her house. She got in his car and he was sexually aggressive toward her while she resisted his advances for an hour and a half, she says.
Article continues below advertisement
The lawsuit -- in what surely is a "Duh" moment -- states that at this point it became obvious to Hagan that Boreanaz wanted sexual relations with her!
Hagan charges that Boreanaz behaved similarly on September 29 when she saw him on the Fox lot after she had an audition for the TV show House
Numerous times during August, September and October, Hagan inquired with Boreanaz about the status of his attempts to find employment for her. He repeatedly claimed that he was looking for the right role and as soon it became available, he'd give her a job on the show – which never happened.
When contacted by RadarOnline.com, a representative for Boreanaz said: "The allegations concerning any alleged inappropriate conduct by David Boreanaz are totally fabricated and absurd. There is no validity to this lawsuit."
As RadarOnline.com revealed, Boreanaz had an affair with Tiger Woods' mistress Rachel Uchitel and another woman, who has not been named.
Boreanaz and his wife Jaime Bergman have stayed together and tried to work through their marital issues, the couple have two children.