EXCLUSIVE STYLE SPOTLIGHT: Janelle Monae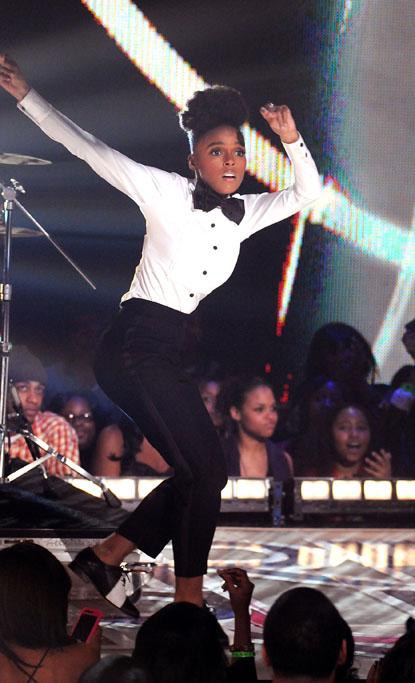 Janelle Monae isn't your typical artist to come out of the slick Bad Boy factory.
The Kansas City native is an artist in every way: from her music, her album aesthetic, and her personal style, each aspect of her career is born from a need for pure expression. RadarOnline.com caught up with Janelle after her intimate performance at the Chase Freedom Lounge to dissect her signature black and white look.
Article continues below advertisement
Her performance look, which Janelle dubs her "uniform," comes from the influence of "the working man and woman." While she calls the main source and genesis of her look "private," she did say part of it is about: "Paying homage to them (those working men and women) and giving them a nod saying I know what they're going through. It's my responsibility-working- when I have my uniform on."
She says the mandated monotone, which her band and team also wears, is "consistent" and that the simplicity of the uniform is a strategic move.
"You're able to respect the music and look beyond the uniform, respect the individuality of the singing. It's kind of like a blank canvas almost."
Funny enough, in this time of Lady Gaga excessiveness, less is getting more attention.