Langhorne Slim's Knee-Slapping Outside Lands Jam Session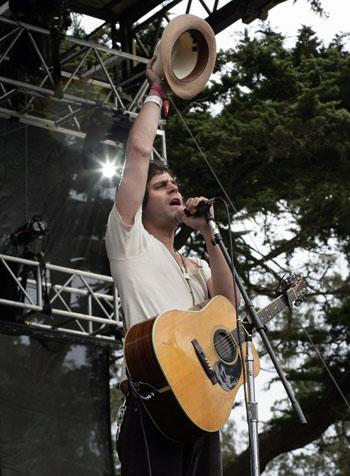 Saturday evening, Langhorne Slim - in his signature fedora- hit the stage at the Chase Freedom lounge for an intimate appearance, giving an energetic and rousing performance.
Proving his deft showmanship, LS didn't skip a beat when his guitar string broke halfway through his set. Rather than pausing, he soldiered on, jumping into the air, hitting high notes, and taking his mic even deeper into the crowd to pump up the atmosphere.
Article continues below advertisement
How To Make Your Plastic Pimp Up Your Music Travel Experience
The lounge, open to all Chase Freedom customers, was a treat for concertgoers that got a musical experience away from the packed outdoor stages. Parking themselves on the white banquettes dotting the tent, the audience got to sit back and relax in style as one of the hottest rising stars on the line-up gave an extended, up close set. Here, it was all about the music in a more personal venue.