Exclusive
EXCLUSIVE PHOTOS: President Obama Gets Gift From Baseball Legend Yogi Berra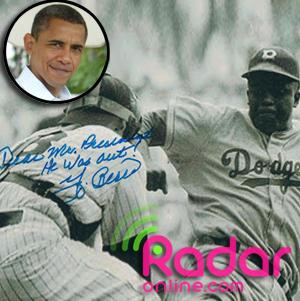 Yogi Berra wants the President to know Jackie Robinson was out in the 1955 World Series.
While on vacation at Martha's Vineyard this week, President Barack Obama was presented with a signed photo of the Brooklyn Dodger stealing home against the New York Yankees during the World Series opening game at Yankee Stadium on September 28, 1955.
On the black and white image, the Hall of Famer scribbled to President Obama: "Dear Mr. President, he was out.  Yogi Berra."
Article continues below advertisement
The man who got close enough to POTUS to deliver Yogi's gift was Tom Muro, a close friend of Kim G. from the Real Housewives of New Jersey.
Muro told RadarOnline.com he stopped in a local restaurant for lunch, not knowing that the First Family was there too. 
Coincidentally, he had been holding onto Yogi's photo for almost a year.
"I knew the President was here on the island and I've wanted to give him this picture for a year," Muro told RadarOnline.com exclusively.
"I met with Yogi and he offered to sign a picture for the President, and I've been hoping for a chance to give it to him.  It was luck and happenstance that I was in the same restaurant as the President."
VIDEO: Jonas Brother Perform For The Obamas At The White House
Muro waited in the line where the President was greeting people. 
"He walked over and shook my hand," Muro told RadarOnline.com. 
"I said 'Mr. President we met last summer on the golf course with Spike Lee' and he said 'Oh yeah, how are you doing?' I said 'I have a gift for you and he said 'I can't accept gifts, I can't take it', I said 'But it's from Yogi Berra,' he said 'Let's see what you have there.'