Exclusive
EXCLUSIVE: NJ Housewife Kim G. Threatens To Buy Out Bankrupt Costar Teresa Giudice's Auction And Re-Sell Everything On E-Bay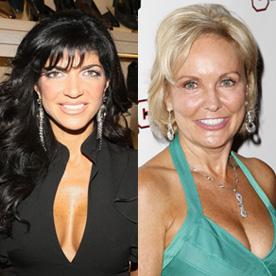 The auction of The Real Housewives of New Jersey star Teresa Giudice's belongings has one confirmed buyer, and she has major plans for the items.
Kim Granatell, her frenemy on the show, told RadarOnline.com that she thinks Teresa's household items aren't worthy of an estate sale. "Her things should be for sale on a folding table on Mulberry Street."
However Kim told RadarOnline.com she was going to the auction and was bringing her checkbook. "I'm going to buy everything and re-sell it on eBay," she said. Kim plans to donate everything to the Emmanuel Cancer charity.
Article continues below advertisement
The auction was originally slated to take place on August 22 but has been postponed until October 3. Kim and her partner in crime Tom Muro plan to be present at the auction and clean house. Literally.
The same company that organized the auction of Grammy-award winning singer Whitney Houston's sale in 2007 exclusively told RadarOnline.com that they expect Teresa Giudice's auction to be more popular. Houston's auction was in an old warehouse in New Jersey, but this one promises to be a higher level event.