Exclusive
EXCLUSIVE: NJ Housewife Spent $60,000 After Filing Bankruptcy! Auction Of Her Belongings Gets Postponed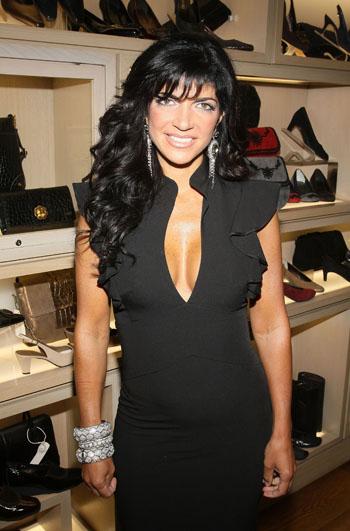 Real Housewives of New Jersey star Teresa Giudice got a slight reprieve on Monday when the auction of her belongings was moved from August 22 to October 3.
RadarOnline.com has exclusive documents regarding the proceedings, including the paperwork showing how the outspoken brunette blew through $60,000 within three months of filing bankruptcy last October.
Read The Exclusive Documents Here
Her lawyer James Kridel told RadarOnline.com exclusively that despite an appraisal of Teresa and her husband Giuseppe's belongings totaling $51,160, the couple has exemptions totaling about $52,000- which cancels out the proposed auction.
Article continues below advertisement
The exemptions mainly center around the argument that the items assessed were bought after the bankruptcy petition was filed. "Unless there's something that would lead one to believe that they were earned pre-petition, they are not part of the bankruptcy estate and therefore cannot be sold," Kridel told RadarOnline.com.
The papers filed by Kridel with a New Jersey bankruptcy court include receipts from many of the items assessed for the auction, proving the Giudices purchased them after filing for bankruptcy.
EXCLUSIVE: NJ Real Housewife's Ritzy Lifestyle Is Worth Only $51,160
However, John W. Sywilok, an attorney who is seeking to conduct the public auction, highlighted the couple's finances in a different way, outlining their outrageous shopping sprees before and after their bankruptcy filing.
"These represented purchases totaling approximately $60,000 within approximately 60 days after filling," Sywilok wrote, exposing the couple's alleged fiscal irresponsibility. According to Sywilok, weeks before filing for bankruptcy the couple was still spending thousands of dollars on decorating purchases, including $6,000 two days prior to filing to cover a furniture order costing a total of $21,810.