Exclusive
EXCLUSIVE: Oksana's Lawyers Set To Subpoena Mel Gibson's Ex-Wife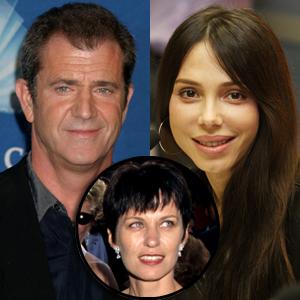 Oksana Grigorieva's lawyers want to question Mel Gibson's ex-wife Robyn about her claims the Braveheart star was not violent during their marriage, RadarOnline.com has exclusively learned.
Team Oksana is poised to sensationally subpoena Robyn Moore Gibson to appear before a deposition; Robyn, of course, is the same woman who the actor left for the Russian musician after 28 years of marriage.
As RadarOnline.com was first to report, Oksana has told law enforcement that Mel once admitted hurling a television at his former wife.
Article continues below advertisement
The actor's ex-girlfriend also said she personally witnessed him hitting his youngest son, Tommy.
The legal move adds yet another twist in the bitter battle between the Mel and Oksana and could result in Robyn being forced into the witness stand to be questioned.
Oksana's legal advisors want to probe Robyn about the sworn affidavit she submitted to the court stating Mel was not ever abusive to her or his children.
"Mel never engaged in any physical abuse of any kind toward me before, during, or after our marriage," Robyn reportedly told the judge overseeing the case.
Robyn's support of Mel raised eyebrows within Oksana's camp who want to question her motivation for doing so, said a source familiar with the case.
She filed for divorce from the Oscar-winning Braveheart star last year, citing irreconcilable differences.
Article continues below advertisement
The decision triggered one of Hollywood's most expensive divorces, because the pair reportedly had no pre-nup and she was able to secure half of the star's $850 million fortune.
Robyn, 54, is the mother of Mel's seven children - six of whom are adults.
Specifically Oksana's lawyers want to investigate what supposedly happened during one allegedly brutal confrontation throughout their marriage.
"Mel was telling several times how he threw a TV into her (Robyn) once when they were arguing," a source has claimed.
MORE ON:
Celebrity Justice
"Thank god he missed and the TV fell out a second story window."
Oksana also alleges that Mel hit Tommy in the head while at a hockey game at Los Angele's Staples Center two-and-a-half-years ago.
"Oksana told authorities about Mel's 'angry outbursts' toward his own family and friends," said a source familiar with the Mel Gibson investigation.
"Oksana has suggested Tommy was assaulted and her lawyers believe the child would have confided this in his mother."
Article continues below advertisement