Exclusive
EXCLUSIVE: Mel's Threatening Text Messages: I'm Drowning In Pure Rage - Read Them Here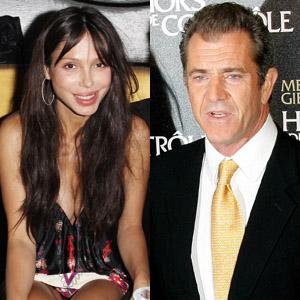 Mel Gibson sent several threatening emails to Oksana Grigorieva and those emails are now part of the investigation into his actions, a source familiar with the situation tells RadarOnline.com exclusively.
RadarOnline.com has exclusively obtained the wording of several of Mel's scary emails, which help explain why Oksana has constantly insisted that Mel needs help.
On February 18 Mel and Oksana's relationship imploded after he accused her of smiling at a worker during a tree-planting ceremony honoring their daughter Lucia. Mel made approximately 30 phone calls to Oksana that night and she recorded some of them.
Article continues below advertisement
Now RadarOnline.com has learned that part of the evidence against Mel includes a threatening text message, according to the source close to the investigation.
During the hours after their Feb. 18 blowup, Mel texted:
"Your goddamn mailbox is full! Hear you are at Sherman Oaks.
"Safe is best!
"I'm drowning in self doubt and depression. And pure rage.
"I'm just not digging it. Every minute like an agonized eternity. F*ck."
It's typical Mel, said the source, and the "Safe is best" line was definitely interpreted as a threat by Oksana.
"She left his Malibu house after they had a fight and went back to the house in Sherman Oaks," the source said. "Mel was abusive, threatening and full of rage. When he said, 'safe is best,' Oksana knew that meant she would only be safe away from him.
"She was scared. After all, she said he had already beaten her once."
Article continues below advertisement
Oksana alleges that Mel punched her in the mouth and left temple on January 6. She has photographic evidence backing up damage to her mouth and also photographic evidence showing bruising around her left eye. RadarOnline.com has published photos showing the damage.
We also reported exclusively that she was diagnosed with a concussion as a result.
Oksana repeatedly told Mel that he needed help or medication. But Mel lurched from crazed rages to apologies, said the source.
RadarOnline.com has also learned that during the night of February 18, as Mel repeatedly called and threatened Oksana, she called a friend for help.
The friend begged her to book a hotel room under the friend's name.
That person could now be a key witness in the various investigations.
In addition, we've learned that authorities have been told Oksana also phoned her mother and her sister that night. They can also offer independent testimony to the authorities.
Article continues below advertisement