Exclusive
EXCLUSIVE INTERVIEW: Rod Blagojevich "Optimistic," Won't Be Run Out Of Chicago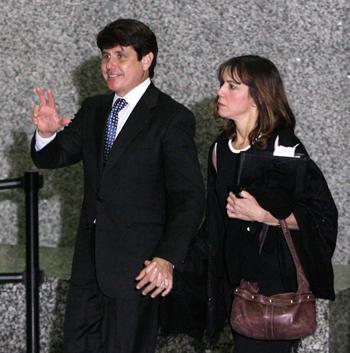 Former Illinois governor Rod Blagojevich was convicted on only one of 24 counts against him Tuesday afternoon and his camp sees that as a victory.
Blagojevich's rep Glen Selig spoke exclusively with RadarOnline.com just minutes after the verdict and said, "It could have been better, but it definitely could have been worse.
EXCLUSIVE VIDEO: Rod Blagojevich Fired Again: Celebrity Apprentice
"He's staying optimistic and he knows he's done nothing wrong. He's a fighter and he'll continue to fight."
Article continues below advertisement
Moments after news of Blagojevich's verdict broke the Illinois government announced they will retry him on the 23 counts the jury were hung on.
REPORT: Rod Blagojevich Coveted Oprah As Obama's Senatorial Replacement
"He won't be chased out of Chicago," Selig said. "If he ever decided to leave it would be through his own personal choice."
In fact, Selig said the support Blagojevich has received from his Windy City counterparts has been incredible.
"People have been remarkably supportive. He'll get strangers on the street thanking him for all the work he's done," Selig said.
"They give him credit and I've got a stack of letters in my office of support for him."
In a press conference given outside the courtroom Blagojevich said, "I want the people of Illinois to know I didn't let you down.
"This was persecution. The prosecution threw everything but the kitchen sink at me. This jury shows you that on every count except for one they couldn't prove I did anything wrong."
Article continues below advertisement
Blagojevich has been married to his wife Patti for 20 years and Selig said, "This whole ordeal has 100 percent without a doubt brought him and Patti closer together.
"She is an incredibly strong woman and they have an amazing marriage. She absolutely believes in him and is supportive of him."
Selig concluded by saying that one of Blagojevich's worst fears was that "people would believe what was being said about him was true."