Exclusive
EXCLUSIVE: Golfer's Dad Says Doctor 'Should Have Left Suicide Note Alone'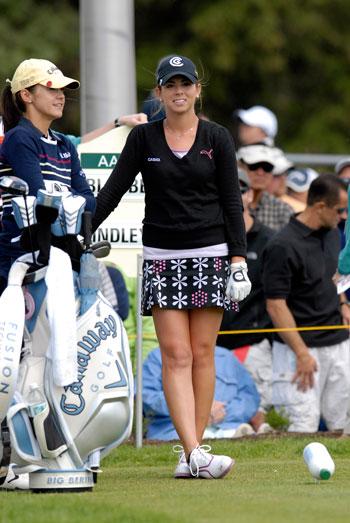 Article continues below advertisement
Hess surrendered to  Henderson, Nevada, police on Tuesday after an arrest  warrant was issued. Hess, who called the police to Blasberg's home the day she died, admitted to authorities that he altered the  scene, including removing a note indicating Blasberg had taken her own life.  He hid the note in his vehicle along with prescription medications taken from  her house.
Mel previously told RadarOnline.com that the family was  pursing a civil suit against Hess.
When asked what he  thought about Hess taking the note, Mel told RadarOnline.com: "I'm not implicating  Hess... A part of it the note could be perceived as implicating him in a  very insignificant way, and it's the type of  thing he never should have touched. He should have left it alone. By taking  it, it made it clear what happened prior to that time. It was significant  enough for him, but in the context of the note he was  insignificant."
Article continues below advertisement
In an affidavit,  Hess defended his actions, saying he was trying to spare the Blasberg family  any public embarrassment.
"I  don't think his action in taking the note was altogether altruistic," the  Blasbergs' lawyer Nick Crosby, of Marquis & Aurbach in Las Vegas, told RadarOnline.com exclusively. 
While  the family is in a holding pattern to see the criminal investigation file  ("We're waiting with baited breath," Crosby  said), he added, "We have a lot of questions about his conduct and  intent.
"His actions are not  of someone who didn't do anything wrong."
Mel stressed that  the note was a key clue to understanding what led to his daughter's tragic  death. "When he took the note in evidence it tested to her condition of the  night before. Taking that note becomes a problem and by taking the note some  would perceive it would implicate him.
AUDIO: Pro Golfer  Erica Blasberg's Death Ruled A Suicide; Hear The 911 Call
Article continues below advertisement
"Simply put, when I  read the note I could understand why he would take the note away…It's easy to  see how it implicates him."
While Mel would not  go into detail about its  content, he did say, "It's mentioning something  that occurred. While it doesn't mention any names, I can see why he would  think it implicates him. The note wasn't about him, it just may be perceived  to implicate him."
Mel  added: "Nobody knows what happened. He's the only one who  knows."