AUDIO: Pro Golfer Erica Blasberg's Death Ruled A Suicide; Hear The 911 Call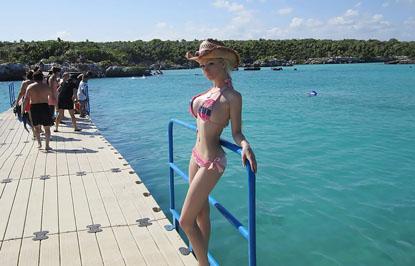 The death of LPGA star Erica Blasberg has been ruled a suicide by the Clark County Coroner's Office in Nevada.
It's a terrible ending to the investigation of the golfer's tragic death and authorities told RadarOnline.com that she was found with a plastic bag  over her head.
RadarOnline.com has obtained audio of the 911 call made by Dr. Thomas Hess – who said he knew her from the golf club – and found her lifeless body inside her Henderson, Nevada home.
Article continues below advertisement
"I need to report a suicide," Hess told the 911 dispatcher. "I came by to check on her last night and she had a couple drinks…I came by to check on her now and she's dead.
"She put a bag on her head."
Pro Golfer Erica Blasberg Found Dead
The call was placed on May 9 when Hess stopped by Blasberg's home to check on her.
"She was supposed to be leaving for a golf tournament but she didn't," Hess told the operator to explain his concern for Blasberg. "She picked up the phone and she sounded intoxicated at that time."
Article continues below advertisement
Toxicology results confirmed the presence of several prescription drugs including headache, cough, pain and anti-anxiety medications, including butalbital, temazepam, alprazolam, codeine, hydrocodone, and tramadol, according to the Coroner's Office.
"While asphyxia was the primary cause of death, the presence of prescription drugs in Ms. Blasberg's system was a significant factor," County Coroner Michael Murphy said in a press release statement.
According to the release, the case was initially complicated when Hess, who called 911, admitted to altering the scene, and because Hess stopped cooperating with detectives, an investigation was needed to ensure that there was no foul play involved with Blasberg's death.
Hess admitted to removing a note indicating Blasberg had taken her own life. According to the press release, Hess hid it in his vehicle along with prescription medications taken from her house.