Exclusive
EXCLUSIVE: Doctor Still Under Investigation In Mysterious Death Of LPGA Golfer, Reveals Father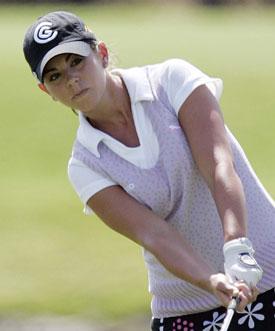 Mel Blasberg, the father of deceased 24-year old golfer Erica Blasberg, is optimistic that the investigation into his daughter's death is reaching a conclusion. In a new interview with RadarOnline.com, Mel says the inquiries continue to focus on Erica's doctor and the mysterious relationship between him and Erica.
"The investigation is creeping to an end and is in the final stages," Mel told RadarOnline.com. "We were encouraged that the investigation is probably one week away from being completed, one to three weeks tops."
Article continues below advertisement
Mel confirmed that the main person of interest is Dr. Thomas Hess, whose home and medical office were searched by police looking for prescription medication related to Erica's death. The medication was alprazolam, also known as Xanax, which is an anti-anxiety medication.
"He's the key to this whole thing," Mel said.
Hess was the person who called 911 the day Erica was found in her Henderson, Nevada, home in May.
"What we're waiting for is if there's any criminality, which could lead to liability, it could be a medical board issue," he added.
Investigators are still compiling evidence, including Erica's telephone records which Mel says will be used to establish the timeline leading up to her passing.
As for Hess, Mel says he knew little about him. "I knew he was a doctor who she played golf with but until all this came out I never really knew anything about him," he said.
MORE ON:
Celebrity Justice
Article continues below advertisement
25-Year Old Pro Golfer Erica Blasberg Found Dead
While Mel was not sure about the validity of the Xanax rumor, he was confident the doctor is a prime figure in his daughter's death. "Dr. Hess is definitely the person getting the most attention. I don't believe there's anyone else but Dr. Hess."