Exclusive
EXCLUSIVE DOCUMENTS: Hair Extension Company CEO Suing Paris Hilton Being Evicted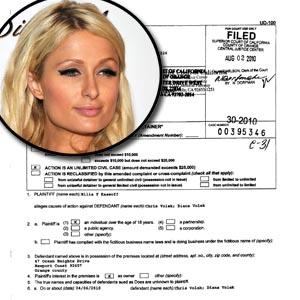 Hotel heiress Paris Hilton was slapped with a $35 million lawsuit by a hair extension company she endorses, but what goes around comes around.
RadarOnline.com has learned exclusively that the founder and CEO of Hairtech International, Chris Volek, has legal woes of his own -- including a recent eviction notice.
EXCLUSIVE DOCUMENTS: Read The Eviction Notice Against Hairtech CEO
In documents obtained by RadarOnline.com, Chris and his wife Diana were renting a Newport Beach home for $11, 500 per month from Ellia Kassoff.
Article continues below advertisement
Kassoff filed the eviction papers against the couple on August 2, 2010 citing that the Volek's owed $28,000 at the time they were served with their 3-day notice.
DOCUMENTS: Read Hairtech's Court Papers Against Paris Hilton
"The Volek's are shady business people," a source who has worked closely with them told RadarOnline.com. "They were always name-dropping Paris and saying how happy they were with her and how much money they were making off her.
"The next thing you know they're suing her."
The $35 million Hairtech is seeking in damages is reportedly 10 times what the socialite was originally paid for her endorsement.
"There is no merit whatsoever to any of these claims," Hilton told RadarOnline.com through a spokesperson when news of her pending lawsuit broke. "We will pursue all of our defenses vigorously and any potential counter claims."
The eviction papers also state that the Volek's "tried to use deposit to pay for rent" and "refused to pay any late fees, even though it's stipulated in rental agreement."