Buy A Hunka Hunka History: Elvis Locks For Sale!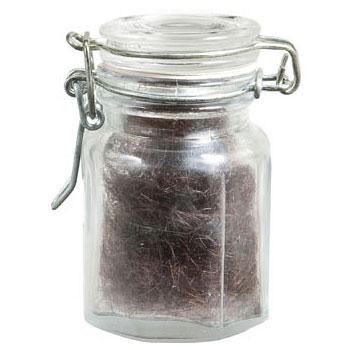 For sale: locks straight from the head of the late king, Elvis Presley.
The hair is expected to bring as much as $20,000 on the auction block at Heritage Auctions' Ultimate Elvis Auction to be held at Memphis' Peabody Hotel on Saturday, August 14.
Poll: Would You Rather Be Snooki, Lilo, Britney Or Vienna?
"This is the hair that fascinated the world for decades and it represents an incredibly rare opportunity for the serious Elvis Presley and Pop Culture collector," Heritage's Doug Norwine told RadarOnline.com in a statement.
Article continues below advertisement
Beauty Review: Ready To Take It All Off?
The locks come in a glass jar straight from the collection of Presley's personal barber, Homer Gilleland, who routinely kept the strands he cut from Presley's head to give to pals as gifts.
"Gilleland was given a credit card so he could travel to anywhere in the world where Elvis needed a color touchup or a trim," Norwine said. "Throughout the years, he saved a quantity of the hair that he cut from the head of the King.
"One large quantity of that hair was gifted to one of his best friends, Thomas Morgan, Jr., who was responsible for commissioning Elvis as a Special Deputy and who, following Presley's death – and at the request of Elvis's father – would coordinate the Sheriff's Department's duties for security at the funeral and at Graceland," Norwine said.
Sweet! Dylans Candy Bar Barbie Available Now
The hair includes a notarized letter of authenticity from Morgan, and has been confirmed by John Reznikoff, of University Archives, a known and trusted expert in the field.
For more info, check out HA.com.