Ready to Take It All Off?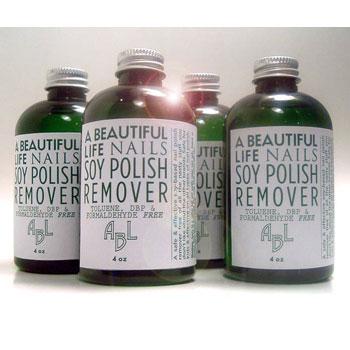 Have you taken off nail polish and noticed your hands are left dry and chaffed? Most nail polish removers are loaded with chemicals that are harsh, drying, and irritating to our skin. But we have a secret - They're not all the same.
A Beautiful Life has created a soy nail polish remover, for those looking for a safer and gentler nail polish removing experience. This eco-friendly remover has replaced the harmful chemicals toluene, DBP and formaldehyde with essential oils, including soy. The company claims this potent remover is so gentle, it is safe for your little ones. With a light grapefruit scent and oil consistency, the essential oils help soften nail beds as your removing the polish.
Article continues below advertisement
Beauty Review: Miracle In A Jar?
We were lucky enough to take it all off with A Beautiful Life, and we were amazed with how soft our hands felt after our polish was removed. Although it took a bit longer to totally remove the polish on each nail, our hands felt soy good!! There was such a big difference when removing polish with acetone and removing polish with essential oils.
Are you ready to bare all with this eco-friendly nail polish remover?
$20 at www.abeautifullife.com