PHOTOS: Jennifer Garner & Ben Affleck Enjoy Saturday In the Park With The Kids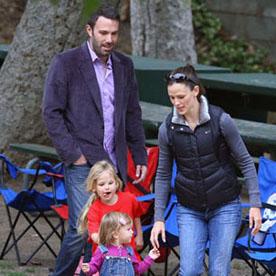 His brother's sexual harassment problems must have seemed a world away for Ben Affleck as he enjoyed a family day with his wife Jennifer Garner and their two daughters, Saturday in Los Angeles. As these photos obtained by RadarOnline.com show, Ben was the doting dad as little Violet and Seraphina Rose played with a colorful soccer ball, and he was the doting husband when Jen leaned in for an affectionate kiss.
Article continues below advertisement
Ben's brother Casey is being sued by two women who both claim they were sexually harassed by Affleck while working with him on a documentary about his brother-in-law Joaquin Phoenix. Casey is married to Summer Phoenix, and they have two sons.
LEGAL DOCUMENTS: Second Woman Sues Casey Affleck For Sexual Harassment
Casey Affleck's rep issued a vigorous denial when he was hit with the first lawsuit. There was no comment when the second lawsuit landed Friday.
Ben and Jennifer celebrated their fifth anniversary June 29.