Leonardo Di Caprio Dishes: No Drugs, But A Lot Of Stress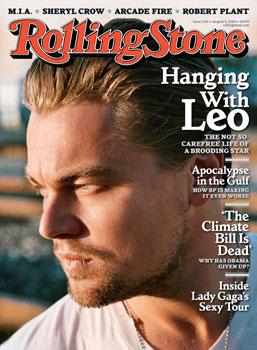 Hot off the success of his new sci-fi thriller Inception, Leonardo DiCaprio opened up to Rolling Stone magazine in their upcoming issue about his personal anxieties, his wild youth and the premature deaths of his childhood peers – and RadarOnline.com has the inside scoop.
Underneath his confident movie star exterior, DiCaprio admits that he stresses just as much as the rest of us. ""My stomach churns over really stupid stuff," says Leo, currently playing a skilled thief who steals secrets from deep inside people's subconscious while they are sleep.
Article continues below advertisement
"Things that shouldn't make you anxious whatsoever. It's crazy how your mind will become this database to make you worry about things that are so arbitrary…I'll just be sitting there, totally anxious about something ridiculous."
RED CARPET RADAR: Sexy Style At LA Premiere Of Inception
The 35-year-old actor, who was catapulted to fame in 1997's record-breaking hit Titanic, admits that he "got to be wild and nuts" for a couple of years following its phenomenal success.
"I didn't suffer as much as people do now, where they have to play it so safe that they ruin their credibility. I didn't care what anyone thought...It was also about avoiding the tornado of chaos, of potential downfall," he told the magazine in the exclusive interview.
While he enjoyed the Hollywood lifestyle and club scene, Leo says avoided the "tornado of chaos, of potential pitfalls," unlike some of his acting peers.
Article continues below advertisement
"It was, 'Wow, how lucky are we to not have hung out with that crowd or done those things?'"
Sadly, fellow young stars Jonathan Brandis and River Phoenix weren't so fortunate.
"My two main competitors in the beginning, the blond-haired kids I went to audition with, one hung himself and the other died of a heroin overdose..." reveals DiCaprio. "I was never into drugs at all. There aren't stories of me in a pool of my own vomit in a hotel room on the Hollywood Strip."
On a lighter note, the heartthrob says his breakout role was a surprising roadblock in his romantic life. "I had better success meeting girls before Titanic. My interactions with them didn't have all the stigma behind it, not to mention there wasn't a perception of her talking to me for only one reason."
Leonardo Di Caprio: From Teen Dream To Hollywood Hunk
The new issue of Rolling Stone hits newsstands nationwide on Friday.