Exclusive
EXCLUSIVE VIDEO INTERVIEW: Photo Of Mel Gibson's Baby With Bruise Powerful Evidence Against Him, Says Lawyer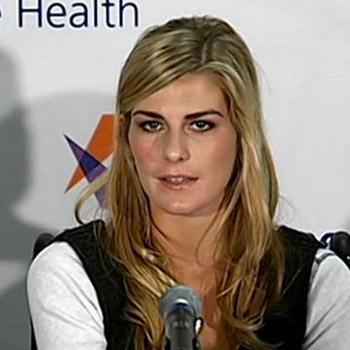 High profile attorney Lisa Bloom says Oksana's photo purportedly showing baby daughter Lucia with an abrasion on her chin is "very powerful" evidence against Mel Gibson.
In an exclusive video interview with RadarOnline.com, Bloom said the photo was "one more piece of evidence" to corroborate Oksana Grigorieva's version of events, in spite of claims she fabricated the allegations against the Lethal Weapon star.
Article continues below advertisement
"The photo that I have seen of the abrasion on the baby's chin is very disturbing," Bloom told RadarOnline.com, after examining the series of photos that Oksana has presented to law enforcement officials.
"When you take the beautiful face of an innocent baby, and you consider that that abrasion may have gotten there by her own father assaulting her mother and perhaps accidentally also hurting her, that should absolutely warrant an investigation by child protective services."
The Department of Children and Family Services is investigating and has interviewed Oksana. Officials will be talking to Gibson this week, RadarOnline.com reported exclusively.
Bloom, who has more than 20 years experience prosecuting cases of child abuse, told RadarOnline.com the Russian musician was "very smart" to take the photograph of Lucia in the hours following the allegedly brutal confrontation at Mel's Malibu mansion on January 6.
Article continues below advertisement
Oksana has claimed Mel punched her twice, choked her and threatened to murder her, Lucia and her son Sascha, in damaging testimony to authorities investigating the superstar for domestic violence.
Mel's camp has denied the allegations, and said Oksana was shaking Lucia.
OFFICIAL PHOTOS: Authorities Examining Mark On Baby's Face
When asked about the allegation that Mel punched Oksana in the mouth and knocked out her teeth, Mel's attorney Stephen Kolodny previously told RadarOnline.com: "Not true... her teeth are in her mouth according to our information."
Bloom said, "It's critical if you are a survivor of domestic violence to preserve the evidence... I think Mel Gibson's in real trouble.
"We have the photos, we have the tapes, we have to acknowledge what happened here... let's face it, without these tapes and without the photos, nobody would believe Oksana.
"Even with the tapes and with the photos, many people don't believe her... (but) that shows how far we have to go in our understanding of domestic violence."
Article continues below advertisement
Bloom was particularly disturbed at an audio recording in which the 54-year-old Braveheart actor was heard telling Oksana no one would believe her story if she came forward and exposed her claim that Mel hit Lucia. That audio was obtained and released exclusively by RadarOnline.com.
Said Bloom, "It's very common for a perpetrator of domestic violence to think that he's all powerful and to think that he can get away with anything and to think that no one will believe the victim if she cries out for help.
MORE ON:
Celebrity Justice
"Where Mel says to Oksana, 'Nobody will believe you', that's very common batterer-type of behavior.
"That's why its so critical for domestic violence victims to preserve evidence, to record phone calls, to take photographs."
RadarOnline.com has released a series of audio recordings in which the Oscar-winning actor/director launched a hate-fuelled and expletive-laced tirade against Oksana, suggesting she would be "raped by a pack of n***ers" because of her supposedly provocative clothing.
Article continues below advertisement
Mel also referred to a Latino staffer as a "wetback" in a second racist rant.
"Frankly, I'm shocked at all of the people who have said that she baited him, that she pushed his buttons -- as if we all have racism and violence buttons just waiting to be pushed," Bloom said.
"I think most people no matter how angry and upset they are they would never have that kind of language come out of their mouths.
"They wouldn't threaten the life of the mother of their child, admit to beating her in the past which he did when he said, 'You f**king deserved it', so I think they are really shocking, powerful evidence."
Mel is under investigation by the Los Angeles County Sheriff's Department.
However, Bloom questioned why charges haven't already been filed, given she said the actor has been "caught" on tape -- and with photographic evidence.
Mel Gibson's Girlfriend Oksana Grigorieva Spotted at Lawyers Office
"I think many times celebrity stories are over-blown, but this is not one of those cases," she said.
"This is a story about one of the richest, most famous people in Hollywood and what he appears to have been getting away with.
Article continues below advertisement