Exclusive
EXCLUSIVE: Oksana Tells RadarOnline.com -- The Photo Is Me & It's Authentic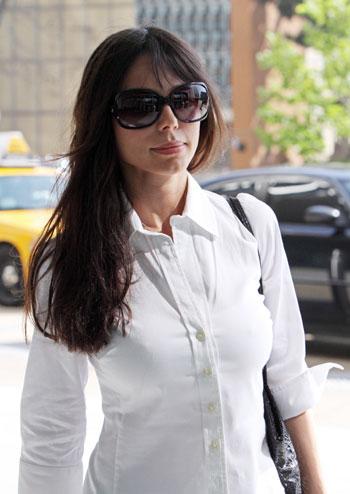 Oksana Grigorieva has confirmed the battered photo released exclusively on RadarOnline.com, showing her with a chipped tooth and missing veneer, is her -- and she says it's authentic.
"It is a true and accurate photograph," Oksana's spokesman, Steve Jaffe, told RadarOnline.com exclusively.
Oksana has told Sheriff's deputies Oscar-winner Mel Gibson struck her in the mouth, knocking one veneer out and chipping another tooth, during a brutal confrontation at his Malibu mansion on January 6.
Article continues below advertisement
Gibson is heard in one audio recording saying "you f**cking deserved it" after Oksana accuses him of hitting her.
The Los Angeles County Sheriff's Department is in possession of the photo as part of its domestic violence investigation into the incident.
EXCLUSIVE PHOTOS: See The First Photos of Mel and Oksana In a Passionate Embrace On The Beach
The photo was also part of Oksana's declaration to the court considering the one-time couple's vicious custody battle, as RadarOnline.com reported.
The image shows segments of Oksana's two upper front teeth missing.
Oksana's official statement shoots down an erroneous report from a Website questioning the powerful piece of evidence. The same Website also falsely attributed quotes to the dentist who treated her.
A second source close to Oksana told RadarOnline.com the image was not doctored in any way before it presented to law enforcement.
"It is not doctored in any way," said the source.
MORE ON:
Oksana Grigorieva
Article continues below advertisement
"It shows that her lip is swollen, she has other injuries and the image is consistent with the dentist's statement."
Unfounded and vicious questions about the legitimacy of the explosive photo were leveled Friday, leaving Oksana hurt and upset, according to one source.
"This is a victim of battery and she is furious some are choosing to take this view," the source said.
Remarks questioning the photo were attributed to Dr. Ross Shelden, the dentist who treated Oksana by the same Website now proven wrong by the official statement.
And the only problem about those Dr. Shelden remarks: He never made them, RadarOnline.com learned exclusively.
An insider told RadarOnline.com: "The dentist will be a very, very strong witness if he ever takes the stand in support of Oksana.
"Dr. Shelden provided a declaration to the court in support of Oksana's allegations that she suffered injuries as a result of the violent confrontation with Gibson."