Outrage! Child Sex Felons Call For Judge To Slap Pedophile Jared Fogle With Longer Prison Sentence, Claim Plea Deal 'Smells Of Corruption'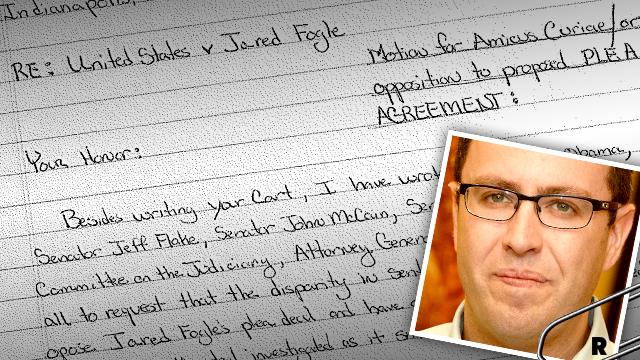 Accused pedophile Jared Fogle may have lost his job, family and freedom in the wake of his shocking child sex scandal— but according to other similar sex offenders, the punishment just isn't enough for his heinous crimes.
As RadarOnline.com has reported, the disgraced former Subway spokesman, 37, took a plea deal, admitting guilt to child pornography charges and crossing state lines for paid sex with minors. In exchange, he will serve between five and 12.5 years in prison.
Article continues below advertisement
The short prison time has enraged incarcerated felons who are currently serving longer sentences for less serious child porn crimes, and at least two are calling for the judge to slap the father of two with a harsher penalty, RadarOnline.com can reveal.
In letters filed by the United States District Court in Indianapolis and exclusively obtained by Radar, two child sex felons, whose names have been redacted by Radar, call the plea agreement "ludicrous" and "disgraceful."
The first writer, who claims he is serving 16.5 months for one count of distributing child pornography and never made sexual contact with children, says the deal "is a slap in the face to the child victims."
Both are furious that part of Fogle's deal includes paying each of his 14 victims $100,000.
"The fact that he has assets to throw around does not negate him from being punished for his egregious actions and behaviors," writer #1 argues.
Article continues below advertisement
"The only message his plea deal is sending is that if you're rich enough, you can play, but it will cost you some money," the second writer states, adding that the $100,000 "will never erase nor fix the damage done" to the young victims.
Writer #2, who says he received 40 years behind bars for distributing child porn online, begs the judge to "reject the plea deal" and "fully charge" Fogle.
He even goes on to say the deal "smells of corruption."
Fogle, who was accused of paying multiple underage girls for sex and possessing child porn produced by his best friend, will be sentenced on November 19.
Subway cut all ties with Fogle after learning of the investigation against him, and his wife Katie filed for divorce.