Too Real! Tamra Judge Confirms Shannon Beador's Husband Cheated -- PLUS Secrets From Inside Their Crumbling Marriage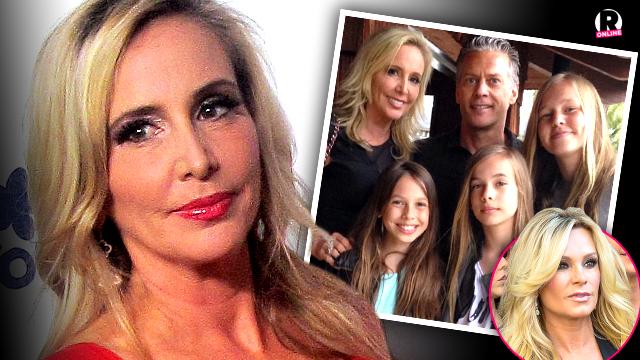 Amid widespread knowledge of marriage woes, Real Housewives Of Orange County cast member Shannon Beador finally admitted on last night's premier that her husband had been cheating on her -- and now, Tamra Judge is speaking out and telling the world that she knew about the affair last year!
Last season on RHOC, we got to see first-hand how strained the relationship was between Shannon and her husband David. Between an extremely awkward vacation with Vicki Gunvalson, and David's inappropriate request for Heather Dubrow to "spread her legs" during a backyard party, it was no secret that there was a lot of tension in the Beadors' marriage. But in last night's episode Shannon dropped a bombshell on the ladies, revealing that her husband had actually been cheating on her -- a revelation that was new to all of the ladies with the exception of Judge!
Article continues below advertisement
In an exclusive interview, Judge told OKMagazine.com, "Last year I touched on issues that were being brought up with them... I knew that David was having an affair last year."
Judge, who is fighting an ongoing custody battle with her ex-husband, is no stranger to having marriage drama play out in front of the cameras. "I think that it's great of her and scary at the same time for her to share that with everybody," Judge admitted. "She could've easily brushed it under the rug and said, 'Oh it's a lie.' But the truth of the matter is it's very real."
Despite her painful admission, Shannon is trying to work things out with David, with whom she has three daughters. "They're doing well," Tamra said of the Beadors. "I respect Shannon for bringing it up. It's a tough subject to put out there on the air. It shows how real the show is that Shannon was willing to lay it out on the line. We'll see what else is exposed."
As for her own relationship with Shannon, Judge says it is thriving. "My relationship with Shannon is good now because she knew I knew last year about the affair," Judge said. "I was the only one that knew last year. And everyone's gonna go 'Oh, so Tamra was telling the truth!""