The Hangover! Bethenny Frankel Rips Into 'Demented' LuAnn De Lesseps On 'RHONY'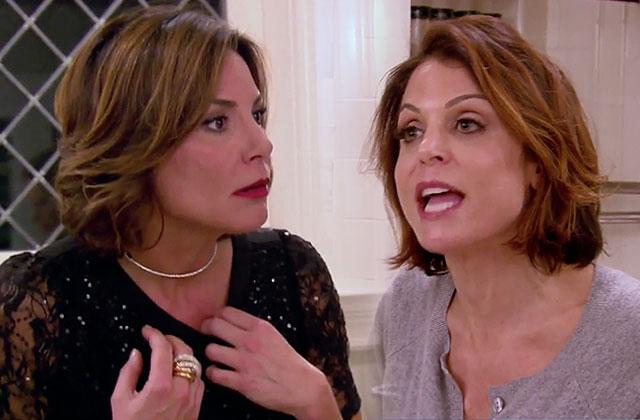 Once upon a time, a few episodes ago, the RHONY ladies were lunching in honor of Ramona Singer's birthday. During that party, LuAnn de Lesseps asked an eternally-irritated Bethenny Frankel: "What are you the judge and jury?"
It's clear during episode 10 that Frankel does, indeed, think of herself as the judge and the jury — she just hasn't made her ruling yet and court is still in session.
Consequently, the Berkshire trip raged on, and between Frankel's apologies for the names she called the Countess — such as "whore" and "slut" — the Skinnygirl mogul ran full steam ahead on her shame train. To be fair, it's not that anything she said wasn't true, it's that it's simply cruel to continue pointing out someone's every flaw.
Article continues below advertisement
Meanwhile, Dorinda Medley had an awful boyfriend, Jules Wainstein struggled to string words together into full sentences, Sonja Morgan seemed to drink too much, and Ramona Singer was, well, Ramona Singer. As you can imagine, it was the perfect playing field for Frankel's observant nature.
"You're dishonest. I see the way you talk about your friends who date younger guys," Frankel slammed de Lesseps. "You're not honest about your life. You criticize people on the regular for doing the same things that you do. You can't admit who you are because of the Countess bullsh*t."
Watch the Video on RadarOnline.com:
"Women feel about you that you are the woman they would not want to have their man around. That is real," she continued.
"Sonja says you slept with half of her boyfriends," Carole Radziwill chimed in, to which de Lesseps rolled her eyes.
"Ramona is an example of a person who wouldn't want to let her man meet you," Frankel dug the knife in furhter.
But de Lesseps stood strong despite the bevy of criticism coming her way: "I'm dating the guy she would like to date that's why."
Article continues below advertisement
Like a dog with a bone, Frankel refused to even pause at that little quip, launching into a long-winded insult: "I'm making a giant blanket statement. The problem with you is that women don't trust you. And they think you have sex with married men and you cheat and you f*ck younger guys and you criticize other people about the same thing that you do. and that you act like you're holier than thou and you wrote a book about etiquette which is the most comical thing so you just have to know that that's what people think about you."
"No. That's what you think about me," de Lesseps retorted before Frankel labelled her both a "barracuda" and a "Venus flytrap" towards the opposite sex.
Though Sonja Morgan missed out the party, she was still ever-present in conversation.
"You can't pretend that you're mentoring Sonja — that's demented," Frankel seethed.
"I'm not mentoring I'm trying to help her," said de Lesseps, her voice cracking with emotion. "She's still reeling and i feel like if we exclude her and we cut her out that something bad is going to happen."
Article continues below advertisement
And like the Grinch of this holiday massacre, Frankel's Skinnygirl heart grew just enough to admit that she is also scared for Morgan: "I'm sorry I screamed like that. That's not who I want to be."
De Lesseps had the perfect response, though it didn't come to her until confessional: "That's not who you want to be? Have you looked at yourself in the mirror? I mean the b is back big time."
Instead, de Lesseps reserved her tears for Dorinda, who remained quiet after her birthday cake meltdown. The Countess, exhausted and feeling sorry for herself, told Medley she loved her and went off to bed with a glass of wine.
The next morning, Frankel woke up in bed with Radziwill and the two giggled profusely over Frankel's Countess scolding session.
"If anyone ever said those things to me I would never speak them again!" she laughed.
After a long night of slut-shaming, it was fun to watch these catty women do their own "walk of shame" out of Medley's house, barely leaving time to say goodbye. Frankel put her leather coat on over her pajamas and it was Radziwil who had to convince her to be polite.
Her morning-after behavior shows that Frankel is fully detached from her confrontations. The problem is that her victims and viewers don't have that luxury. There's no morning after pill for being a big "b".
The Real Housewives of New York City airs on Bravo Wednesdays at 9 p.m. ET.