Vicious Mobsters Come After Muhammad Ali Jr. Over Dad's $80 Million Fortune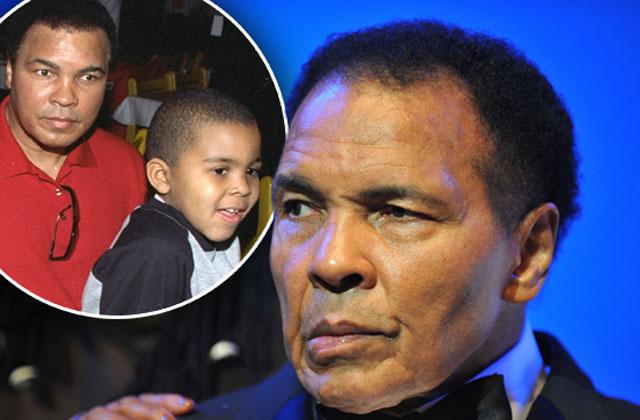 Muhammad Ali's fortune will end up in the hands of ruthless, hard-boiled Chicago gangsters, friends of the late boxing legend fear.
A source tells RadarOnline.com Ali's son, Ali Jr., is controlled by the vicious thugs who supply him with drugs — and are in a position to shake him down for whatever part of his late father's $80 million fortune he gets !
"Everyone wants a piece of him!" an insider tells RadarOnline.com.
Article continues below advertisement
Ali Jr., 44, is a product of Ali's 10-year marriage to second wife Belinda Boyd, and one of nine acknowledged children of The Champ, who died at the age of 74 on June 3.
But he was estranged from his famous dad for years before Ali died, and blames his dad's fourth wife and widow, Lonnie Williams, for keeping him away from the former heavyweight champion of the world.
While his father — who was diagnosed with Parkinson's disease in 1984 — lived in luxury, Ali Jr. has lived in a dangerous, poor area of Chicago known as West Englewood, where many of the dilapidated houses don't have hot water and many of his neighbors are crack addicts — and their suppliers.
After being cut off by Lonnie, Ali Jr. says, he's had to feed his wife Shaakira and their two young children with "handouts and food stamps."
A close friend of Ali Jr.'s tells RadarOnline.com that although he's a devout Muslim, he smokes marijuana heavily when he has the money. And that habit is at least partly to blame for his being in debt to area dealers who would not hesitate to take his newfound fortune from him!
Article continues below advertisement
"He's in debt, I don't know how much, but he's in street debt, and they have control of them," the source says.
Because he's Ali's son and because he's looking at a significant inheritance, "Everyone wants to be his friend, trying to give him something, want him to be in debt, want to play buddy.
"They'll give him weed, do whatever, he spends most of his time zonked out every evening. I really hope he hasn't started doing anything stronger.
"This dude lives in one of the worst neighborhoods, in the worst house in the neighborhood — and this is Muhammad Ali's son?"
Though the source says Ali Jr. hasn't been in contact with his half-siblings, but has remained in contact with his full-sister Maryum, 48.
One of his other full-sisters recently bought a plane ticket for him to fly to Los Angeles, where Maryum lives and where all of the siblings and half-siblings gathered at the end of June to discuss their inheritance, which is being administered by Lonnie.
Article continues below advertisement
But there are worries that Ali Jr., who stands to inherit millions, will fall prey to the gangsters in his neighborhood once he's paid — and they worry as well that others will come out of the woodwork and inveigle their way into his pockets, the source says.
"There are girls throwing themselves at his feet," the source says. And his own wife and her family, the source adds, "have been waiting for this day. She married him for the pay check at the end," the source adds.
"Everybody wants a piece of Muhammad Ali Jr.!"