Exclusive
Divorce Shocker! Muhammad Ali's 'Savvy' Wife Wanted Out — But Will Now Inherit His Millions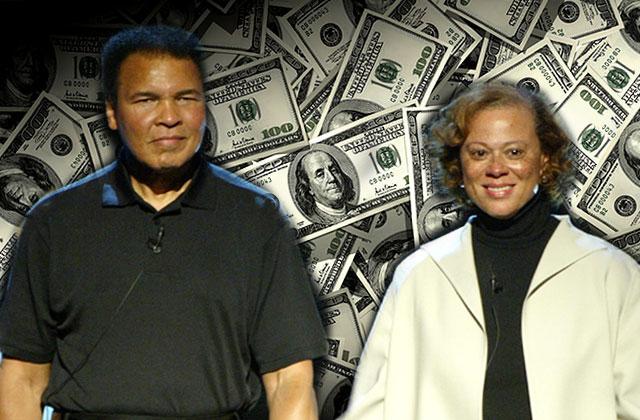 While Muhammad Ali's widow Lonnie stands to be a very wealthy widow after her husband's June 3 death, friends exclusively tell RadarOnline.com she nearly didn't last to claim the pot of gold because she seriously considered divorcing the champ several times during their 30-year marriage!
While Ali's marriage to Lonnie lasted longer than his three previous marriages combined, a friend reveals theirs wasn't always a happy time and Lonnie had desperately debated whether to walk out.
Article continues below advertisement
"As Muhammad proved from his three divorces, he wasn't good at marriage," the friend said. "He could be a very self-involved man, and in some ways, he regarded Lonnie as a servant as much as a wife."
"And really, when the effects of his Parkinson's began to consume him, her main job was that of a nurse and a caretaker, and it really wore her down emotionally," noted the pal.
Still, the friend noted that Lonnie has long had a cold, calculating side, "and she knew if she divorced Muhammad before his death, all it would have led to was a long, drawn-out battle for his fortune. Now she's in a position to claim it all."
Lonnie, a native of Ali's hometown of Louisville, Ken., knew Ali since she was a toddler, the result of her mother's friendship with his mother.
"By the time Lonnie was 17, she told all her friends that she was madly in love with Muhammad, even though she was 15 years younger than him," the friend said. "And she would say, 'I know I'm going to marry him.'"
And while Ali was going through a string of wives, Lonnie was laying down the groundwork for a life with the champ. The friend noted that Lonnie "is super savvy and intelligent," earning a master's of business degree from UCLA in 1986, and after graduating moving into an apartment near the home Ali shared with his third wife Veronica.
Article continues below advertisement
"Muhammad was in the early stages of Parkinson's then, and Lonnie said she was a family friend going way back, and wanted to help take care of him," the friend revealed to Radar. "Muhammad wasn't a good husband to Veronica and coupled with his disease, it all became too much for him."
"Even though Lonnie wasn't the looker Veronica was, Veronica eventually backed out of the marriage, and within months after she and Muhammad divorced, he and Lonnie got married, which was what Lonnie had been plotting for more than 10 years," claimed the pal.
Still, the cold reality of her marriage to Ali soon set in.
"The great love story Lonnie wanted in her life just didn't come to be," the friend said. "He was moody and distant and could bring Lonnie to tears with some of the blunt, derogatory things he would say."
"Lonnie, with her business acumen, helped build up Muhammad's finances, which were a mess at the time she married him. But she didn't get the gratitude from Muhammad she thought she deserved," continued the friend.
In the end, Lonnie stuck it out in the couple's often-difficult marriage, and now stands to claim most, even all, of the $80 million fortune Ali left.
"Even though she considered leaving, Lonnie was still Ali's wife at the time of his death, and she's ready to fight tooth and nail if need be to make sure she lays claim to his estate," said the friend. "She believes she's the one who built his fortune back up, she's the one who took care of him, and she's the one who had to go through hell while Ali deteriorated. She believes she deserves that money."