Mariah Carey Slams Jennifer Lopez On 'WWHL:' 'I Don't Know Her!'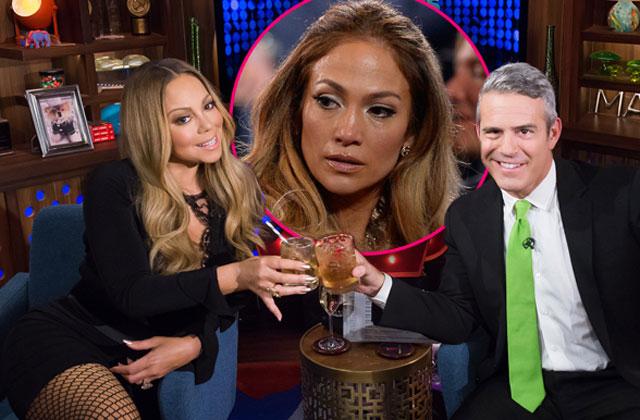 After arriving late for her Watch What Happens Live interview on Tuesday, Mariah Carey reportedly booted host Andy Cohen from his usual seat in order to showcase the good side of her face.
During their sit down, the known diva was forced to discuss her rumored feud with fellow singer Jennifer Lopez, something she has dismissed in the past over claims that they aren't well acquainted.
But when Cohen mentioned that Lopez was certain the two have crossed paths before, Carey had to come up with an explanation — fast.
Article continues below advertisement
"Apparently, I'm forgetful because I don't remember the fact that it was just like, 'Hi, I'm so and so.' And then move on," the 46-year-old insisted. "If I have never had a conversation with you and someone asked me about you, I'd be like, 'I don't know him, but he seems cool.'"
"Does she seem cool?" Cohen asked.
"I don't know her, what am I supposed to say?" Carey replied with major sass, refusing to even speak Lopez's name.
Watch the Video on RadarOnline.com:
Caey, now engaged to billionaire business man James Packer, was equally flippant when it came to American Idol co-judge Nicki Minaj, whom she was unable to say "three nice things about" when Cohen asked.
In fact, the only superstar songstress the "Always Be My Baby" hit-maker reserved kind comments for was Beyoncé.
"I love Beyonce. She knows this, most people know that. I'm a fan, I love her and we have fun together, like she's a fun person, she's really cool," Carey said. "I would love to do a collaboration with her."
Will J.Lo have something to say after seeing this feisty interview? Let us know what you think in the comments below!