'Little Women: LA' Star Briana's Husband Charged With Assault After Cops Claim He Strangled An Ex-Girlfriend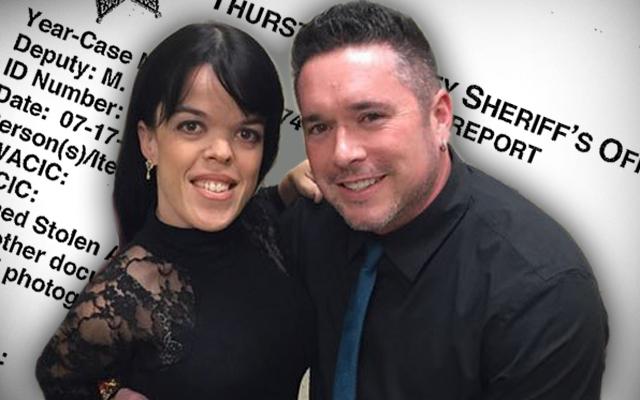 Little Women: LA star Briana Renee's costars can't stand her husband, Matt Ericson. But the Lifetime reality queen constantly defends her man, and even shuts down her sister and friends' claims he's a cheater with a history of domestic abuse.
"Matt has never harmed another woman," Renee, 32, insisted to a magazine earlier this month.
However, RadarOnline.com has exclusively learned that the controversial reality star— known legally as Matthew Aaric Grundhoffer— was slapped with a felony charge of second-degree assault, domestic violence, after a vicious attack on a former girlfriend.
Article continues below advertisement
According to Washington's Thurston County Superior Court documents obtained exclusively by RadarOnline.com, cops claimed Grundhoffer attempted to strangle his then-girlfriend, whom RadarOnline.com will call Tanya in lieu of her actual name for privacy reasons, at her Olympia home on the night of July 17, 2012.
THE PROOF! READ THE SHOCKING COURT DOCUMENTS
After snatching away her cell phone, "Matt grabbed Tanya by the throat with his right hand and pushed her against the wall," responding officer Deputy Brennan of the Thurston County Sheriff's Office wrote in his Incident Report. "Tanya said that Matt was squeezing hard and she was pushing him away in an attempt to get away."
"Matt kept his grip on Tanya and pushed her to the floor."
Brennan claimed Grundhoffer, 39, only released his grip when his girlfriend's 9-year-old son walked into the room.
Neighbors who heard the commotion called police, who then interviewed the couple.
"I observed some redness to Tanya's left and front neck area," Brennan wrote. "Tanya advised Lt. Counts that her throat was sore and her voice felt raspy."
Article continues below advertisement
Brennan noted that Tanya was "fearful" and was "crying" after the alleged attack, and that alcohol seemed to be involved in the incident.
Grundhoffer told cops that the noise was created by a washer and dryer, not a fight, but police didn't buy his explanation. They promptly placed him under arrest, and transported him to the county jail. (He was released on $2,500 bail the following day.)
The same evening, the court issued a Domestic Violence No-Contact Order to protect Tanya from Grundhoffer, who was forbidden from coming within 600 feet of her residence, school and workplace.
He was also forced to surrender his firearms: a pistol and a revolver.
After an omnibus hearing, a jury trial was scheduled for December 3, 2012.
But the trial never commenced, as both parties agreed for Grundhoffer to enter a state treatment plan called Friendship Diversion Program, where offenders undergo counseling and perform community service.
He was ordered to complete the program in 12 months, and pay $500 to the Crime Victims Fund.
He successfully graduated from the program in November 2013, and the restraining order was dropped upon its completion.
Grundhoffer and his wife, Renee, secretly eloped to Las Vegas after a whirlwind romance last year, infuriating the bride's shocked best friends including Terra Jole and Christy McGinity Gibel.
"I know who is with me every day and night, they only know him from glimpses and what they've read," she told RadarOnline.com in an exclusive interview. "I know Matt, I stand behind my relationship."